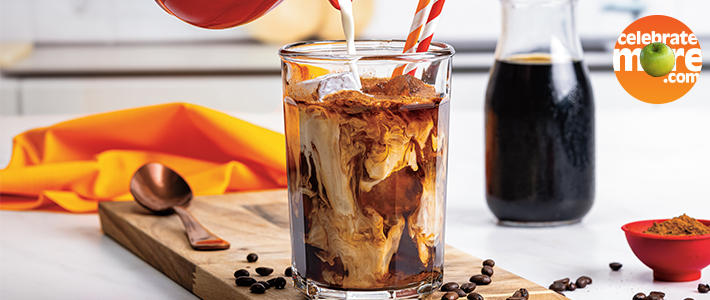 Soak up the Fall Flavors with this Maple Pumpkin Cold Brew Coffee. Be your own barista at home!
Ingredients
1 1/2 C. Wide Awake Coffee Co® Bold Ground Coffee
Ice
1/2 C. Pumpkin-flavored Creamer
1/4 C. Four Brothers® Pure Maple Syrup
1/4 tsp. Pumpkin pie spice blend, optional
Instructions
In glass jar or container, stir coffee and 3 cups cold water; let stand 5 minutes. Stir coffee mixture; cover and refrigerate to steep at least 12 or up to 24 hours.
Pour coffee mixture through a double layer of cheesecloth into clean glass jar or container; discard coffee grounds. Makes about 2 cups.
For 1 serving, in glass, stir ice and 1/2 cup each cold brew and cold water; stir in 2 tablespoons creamer, 1 tablespoon syrup and pumpkin pie spice, if desired. Repeat with remaining cold brew and creamer to make 3 more servings, or cover and refrigerate remaining cold brew up to 1 week.
Notes
Tip: Steeping time will affect the strength of the cold brew; the longer it steeps, the stronger the flavor.