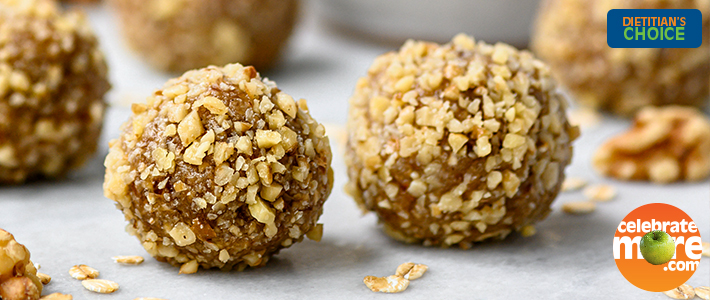 Maple Walnut Energy Balls
Serving Size
1 energy ball
Ingredients
2 Cups Walnuts, plus 1/4 Cup for coating
1 Cup Old-Fashioned Oats
1/2 Cup Medjool Dates, pitted (about 7 dates)
3 Tbsp Maple Syrup
2 tsp Vanilla
1/4 tsp Salt
Instructions
Add 2 cups walnuts, oats, dates, maple syrup, vanilla and salt to a food processor. Blend until smooth and the dough forms together into cohesive balls, about 1 to 2 minutes.
Finely dice the remaining 1/4 cup walnuts and add to a plate.
Form the dough into 16 balls and roll each ball in the diced walnuts to coat. Store the energy balls in an airtight container in the fridge for a week, or in the freezer for up to three months.
Notes
Recipe from California Walnuts  
This recipe is American Heart Association Certified. 
Nutrition per serving: Calories 179, Total fat 11g, Sat Fat 1g, Polyunsaturated fat: 8g, Monounsaturated fat: 9g, Sodium: 37mg, Carbohydrates: 18g, Dietary Fiber 2g, Total Sugars 12g, Added Sugars: 0.5g, Protein: 3g, Calcium: 30mg, Iron: 0.7mg, Potassium 329mg