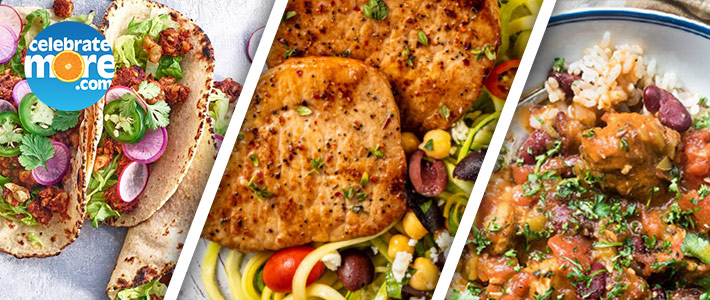 March Meal Madness – Protein Edition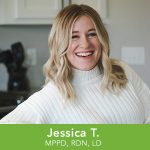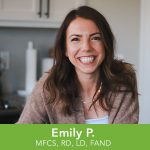 Happy March! It's an exciting time of year because we're FINALLY turning the corner towards spring. While we find leaving winter behind us the most exciting part of March, many believe that March Madness is the highlight of the month. But, as Registered Dietitians, we must share that the true highlight of March is that we celebrate National Nutrition Month! So, in honor of all things nutritious, let's have our own March Madness… March Meal Madness – Protein Edition! We're talking smart protein swaps that will make your meal a slam dunk!
Pork Chop vs. Ribeye Steak
With ribeye steak being an all-star favorite, pork chops should enter the hall of fame after this match up! Pork chops brought their A-game with an amazing flavor profile and lean composition. Try these
Mediterranean Pork Chops
and you'll be rethinking that steak dinner!
Skinless Chicken Breast vs. Rotisserie Chicken
Rotisserie chicken has a home team advantage that no one can deny. It's precooked, tasty, and easy to add into your meal! But what if I told you that skinless chicken breast is simple to make and lower in sodium and fat? Simply top your chicken breasts with a few tablespoons of olive oil and a pinch of Italian seasoning then bake at 375 for 35 minutes, or until the meat thermometer reads at 165F. The perfect addition to salads and pasta!
Walnut Chorizo vs. Chorizo Sausage
Think this is an odd matchup? Think again! Walnut chorizo makes a three-point shot and scores on this Taco Night matchup! Use our
Walnut Chorizo
recipe to shake up the competition on your next Taco Tuesday. It came to compete with black beans and walnuts bringing the protein, fiber, and plenty of heart healthy fats!
Fresh Chicken Tenders vs. Fresh Chicken Wings
No one's backing down in this game of chicken! Chicken tenders take the lead, making a fast break followed by a slam dunk to score. The versatility and low fat content of the chicken tenders makes them a force to be reckoned with. Soak them in your favorite wing sauce and use them anywhere you might want a zesty chicken wing flavor – I'm talking to you, buffalo chicken wrap!
Pork Loin vs. Ground Beef
Ground beef is a fan favorite in the chili game, but the underdog pork loin pulls ahead to make a HUGE comeback in this one! Just 3 ounces of pork loin contains 24g of protein, giving it the necessary advantage to maintain momentum and win the matchup. Try it for yourself with Instant Pot Pork Chili and Rice for a satisfying and delicious meal!
—
Each of these proteins show up ready to compete, but some shoot more baskets and others shoot more airballs. When it comes to nutrition, the lean and low sodium cuts of meat are a slam dunk! Which of these swaps will you try?

Happy Eating!
Jess, Registered Dietitian
MPPD, RDN, LD
Emily, Registered Dietitian
MFCS, RD, LD, FAND