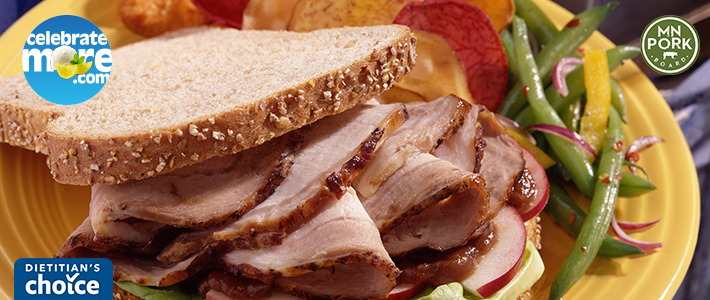 Marinated Pork and Spicy Apple Butter Sandwiches
This is an easy-to-fix meal to have at home, but works for a picnic or at a tailgate party. Serve with sweet potato chips and warmed apple cider.
Ingredients
2 lb. Boneless Pork Loin
1 C. Soy Sauce
1 C. Apple Cider
1 Clove Garlic, minced
1 Tbsp. Black Pepper, fresh ground
1 C. Apple Butter
1 Tbsp. Horseradish
1/8 tsp. Chinese Five-Spice Powder
Salt, to taste
12 Slices Whole-Grain Bread
1/3 C. Dijon Mustard
1 Tart Apple, large sweet, cored and thinly sliced
Lettuce Leaves
Instructions
Place pork in self-sealing plastic bag; mix together soy sauce, apple cider, garlic, and black pepper; pour over pork, seal bag and refrigerate overnight (4 to 24 hours). Remove pork from marinade (discard marinade), place in shallow pan and roast in 350 degree F oven for 35-45 minutes (about 20 minutes per pound), until an instant-read thermometer inserted in the center of the roast reads 145ºF. Remove from oven and let stand for 10 minutes.
Meanwhile, in a small bowl stir together apple butter, horseradish, and five-spice; taste for seasoning and add salt to taste.
On one side of 6 slices of bread, spread a few tablespoons of apple butter. On the other slices of bread, spread mustard.
Layer apple slices on the bread slices with mustard; place lettuce leaves on apple buttered slices.
Thinly slice pork roast and place about 2 ounces of pork on apple slices.
Close sandwiches and serve; or wrap securely and keep cool until serving.
Wrap and refrigerate any leftover pork roast.
Notes
Recipe and image shared from MN Pork