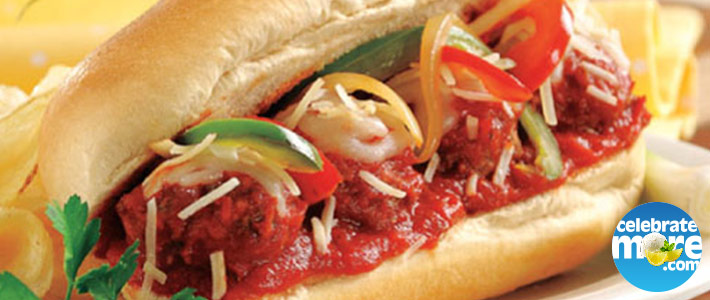 Ingredients
2 Cups Pizza Sauce
1 Pkg Italian Style Meatballs 
Nonstick Cooking Spray
1-1/2 Cups Sliced Green and/or Red Bell Peppers
1 Cup Sliced Yellow Onion
4 (6-inch) Hoagie or Sub Buns
3/4 Cup Shredded Mozzarella and/or Parmesan Cheese
Instructions
Heat sauce and meatballs in large skillet to simmering over medium-high heat. Reduce heat to low and cook 15 to 20 minutes longer or until meatballs are heated through, stirring occasionally.
Meanwhile, spray second large skillet with cooking spray. Cook bell peppers and onion over medium-high heat 5 to 6 minutes or until peppers are tender-crisp and lightly browned.
Slice buns lengthwise in half but do not cut all the way through buns. Spoon meatballs and sauce into each bun. Sprinkle with cheese and evenly divide pepper-onion mixture over cheese.
Notes
Approximate nutritional values per serving: 647 Calories, 37g Fat (16g Saturated), 80mg Cholesterol, 2085mg Sodium, 55g Carbohydrates, 4g Fiber, 33g Protein