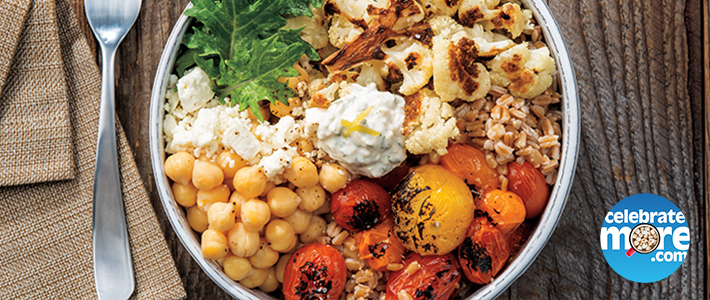 Ingredients
3/4 C. Dry Pearled Farro
1 Package (10.5 ounces) Grape or Cherry Tomatoes
6 C. Small Cauliflower Florets
2 Tbsp. Food Club Extra Virgin Olive Oil
½ tsp. Salt
½ tsp. Ground Black Pepper
1 Garlic Clove, minced
½ C. Food Club Plain Nonfat Greek Yogurt
1 1/2 Tbsp. Fresh Lemon Juice
1 Tbsp. Chopped Fresh Dill
1/2 tsp. Lemon Zest
4 C. Baby Kale
1 Can (16 ounces) Food Club Reduced Sodium Garbanzo Beans (chickpeas), drained and rinsed
1/2 Cup Crumbled Feta Cheese
Instructions
Preheat oven to 450°. Prepare farro as label directs.
Line rimmed baking pan with parchment paper. In separate bowls, toss tomatoes and cauliflower each with 1 tablespoon oil, and 1/8 teaspoon each salt and pepper. Transfer tomatoes and cauliflower to opposite sides of prepared pan in single layer. Roast 20 minutes or until tomatoes are slightly charred and cauliflower is golden brown, stirring halfway through cooking.
In small bowl, stir garlic, yogurt, lemon juice, dill, lemon zest, and remaining ¼ teaspoon each salt and pepper.
Into 4 serving bowls, evenly divide kale, beans, farro, cheese, tomatoes and cauliflower; evenly dollop with yogurt mixture.
Notes
Chef Tips
For additional protein, add grilled chicken, fish or shrimp to the bowl.

To roast the tomatoes and cauliflower on the grill, prepare the grill for direct grilling over medium-high heat. Use aluminum foil instead of parchment paper to line the baking pan, and cook tomatoes and cauliflower in pan directly on hot grill rack as directed above with grill covered.
Approximate nutritional values per serving: 418 Calories, 14g Fat (4g Saturated), 18mg Cholesterol, 651mg Sodium, 61g Carbohydrates, 16g Fiber, 20g Protein