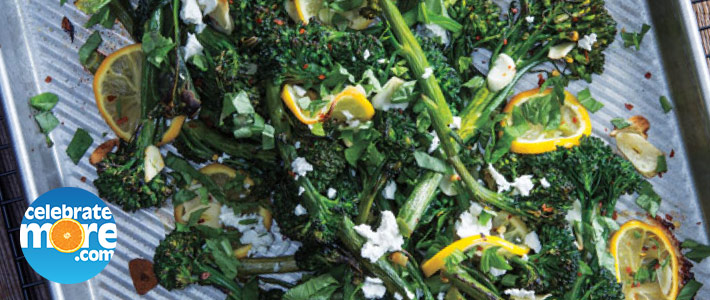 Mediterranean Roasted Broccolini
Prep: 15 minutes
Roast: 20 minutes • Serves: 4
1-1/4
pounds broccolini
4
garlic cloves, thinly sliced diagonally
1
small lemon, thinly sliced
1-1/2
tablespoons olive oil
1/4
teaspoon salt
1/2
cup reduced fat crumbled feta cheese
2
tablespoons chopped fresh basil leaves
1
teaspoon crushed red pepper (optional)
1.Preheat oven to 400°F. Heat large covered saucepot of water to boiling over high heat; add broccolini and cook 2 minutes. With tongs, transfer broccolini to bowl with ice water. Once cool, drain broccolini and pat dry.

2.In large bowl, toss broccolini, garlic, lemon, oil and salt; spread in single layer on rimmed baking pan. Roast broccolini 20 minutes or just until tender-crisp.

3.Sprinkle broccolini with cheese, basil and red pepper, if desired. Serve immediately.


Approximate nutritional values per serving: 

126 Calories, 7g Fat (2g Saturated), 5mg Cholesterol,
335mg Sodium, 12g Carbohydrates, 4g Fiber, 7g Protein