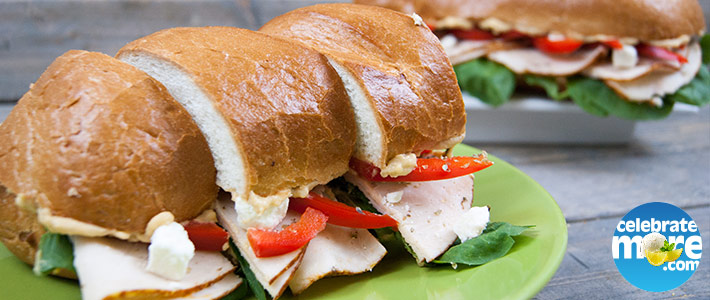 Mediterranean Roasted Red Pepper, Chicken, and Feta Sandwich
Ingredients
1 Loaf of Coborn's French Bread - Unsliced
1/2 Cup Roasted Garlic Hummus
1/4 Crumbled Feta Cheese
1 tsp Dried Oregano
1 Pound Kretschmar Off the Bone Chicken
1 Large Red Bell Pepper - Thinly Sliced
1 Cup of Fresh Baby Spinach
Instructions
Cut the French Bread in half lengthwise.
Spread a thin layer of hummus over each cut side side of the bread.
Toss the Dried Oregano, Feta, and Red Pepper together in a bowl.
Layer the spinach over the bottom half of the bread.
Layer the Kretschmar Off the Bone Chicken over the spinach.
Top with the Oregano, Feta, and Red Bell Pepper mixture.
Place the top of the loaf back on the sandwich and cut into 3 Inch pieces, serve, and enjoy!