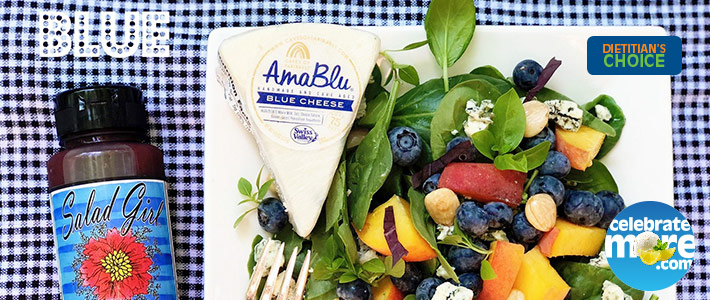 Ingredients
7 Oz. Spring Mix greens
1 Pint Fresh Blueberries
4 Ripe (but firm) Nectarines or peaches, cut bite size
1 1/2 C. Caves of Faribault AmuBlu Blue cheese, crumbled
1 C. Almonds
1/2 C. Fresh Basil, chopped fine
Salad Girl Blueberry Basil Organic Vinaigrette
Instructions
Arrange greens on a platter or individual salad plates. Decorate with fruit, cheese, and almonds. Sprinkle with fresh basil, and just before serving, drizzle with Salad Girl Organic Blueberry Basil.
Enjoy!
Add fresh, local flavor to your salads and support MN food makers with this Mid-Summer Blues Salad! It's refreshing, colorful, and oh so tasty! Leafy greens topped with in-season peaches, Caves of Faribault AmaBlu Blue Cheese, and Salad Girl Blueberry Basil Organic Vinaigrette.
This Mid-Summer Blues Salad will perk your taste buds right up when you start feeling like the summer is going by too fast! Our dietitian's are adding new recipes all the time, so check out our Dietitians Choice Recipes page for all their latest recipes!
Shop from the comfort of your home! You can shop online at any of our proud family of stores for these recipe ingredients as well as the rest of your grocery list! We offer curbside pick up at all locations and delivery in select locations as well. Don't forget to connect your MORE Rewards account when you shop online for extra savings, digital coupons, and many other rewards too!
Shop Ingredients