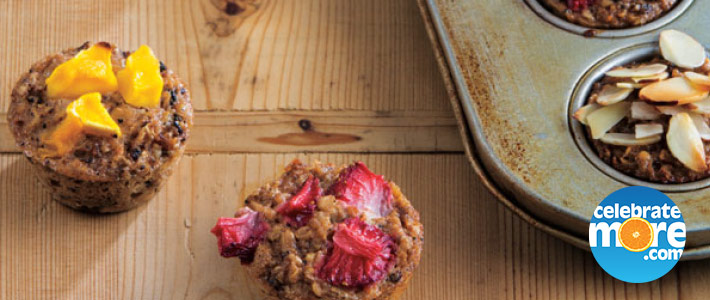 Mini Banana Oatmeal Muffins
Prep: 20 minutes
Bake: 20 minutes • Makes: 24 mini muffins
Nonstick baking spray
1
cup old-fashioned rolled oats
1
large egg, lightly beaten
1
large ripe banana, mashed
3/4
cup nonfat Greek yogurt
1/4
cup plain or cinnamon applesauce
1/4
cup unsweetened almond or coconut milk
3
tablespoons honey
1
teaspoon ground cinnamon
3/4
teaspoon baking powder
3/4
teaspoon vanilla extract
1/8
teaspoon salt
Toppings: almond or peanut butter; blueberries, pomegranate seeds or raspberries; chopped apples, cashews, dark chocolate; dried apricots, mangoes or strawberries; sliced almonds; pecan pieces; toasted coconut (optional)
1.Preheat oven to 350°F. Spray mini muffin tin with baking spray. In large skillet, toast oats over medium heat 8 minutes or until golden brown, stirring occasionally.

2.In large bowl, whisk egg; whisk in banana, yogurt, applesauce, milk, honey, cinnamon, baking powder, vanilla extract and salt until combined. Fold oats into egg mixture until combined.

3.Evenly divide oatmeal mixture into prepared cups, filling 3/4 full; add toppings, if desired. Bake 20 minutes or until toothpick inserted in center of muffins comes out clean. Cover and refrigerate leftovers up to 2 days.


Approximate nutritional values per serving (3 muffins):
127 Calories, 2g Fat (0g Saturated), 31mg Cholesterol,
194mg Sodium, 22g Carbohydrates, 2g Fiber, 6g Protein