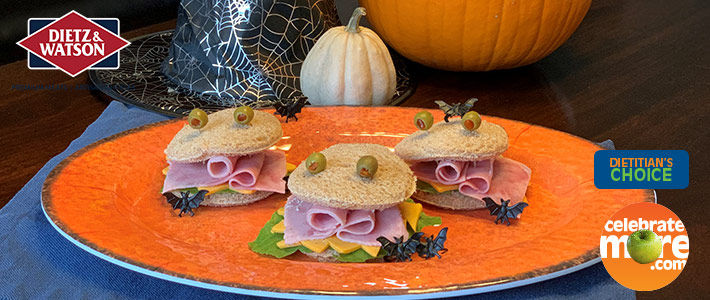 Ingredients
2 Slices of Whole Wheat Sandwich Bread
3 slices of Dietz & Watson Ham or Turkey Deli Meats
1 Tbsp of Olive Oil Mayo
1 Slices of Dietz & Watson Cheddar Cheese Slices
2 Stuffed Green Olives
Instructions
Use a cookie cutter to cut each slice of bread into 2 circles.
Using a knife, or another cookie cutter, make fun zig-zag patters in your cheese.
Spread Olive Oil Mayo on one side of your sandwich bread, and place your cheese on top, with the zig-zag patterns facing the outer edge.
Lay 2 slices of deli meat over the cheese. Take the last slice of deli meat and roll it up, placing it on top of the other deli meat. This will be your monster's mouth.
Lastly, add on your top bread slice, and insert 2 toothpicks into the sandwich. Then take two stuffed green olives and stick to the top of each toothpick. These will be your monster's eyes.
Enjoy!