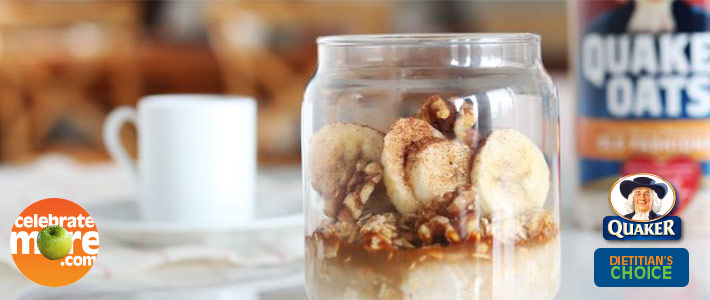 Mocha Banana Overnight Oats
Ingredients
1/2 Cup Quaker Oats
1/2 Cup Milk
1/2 Tbsp. Cacao Powder
1/2 Shot Warm Espresso
1/16 tsp. Vanilla Extract
1/8 tsp. Cinnamon
1/2 Banana, sliced
1/2 Tbsp. Walnuts, crushed
Instructions
Add Quaker Oats to your container of choice.
Mix milk, cacao powder, and espresso.
Add mixture to container and top with vanilla bean, banana, and walnuts.
Sprinkle cinnamon on top before refrigerating overnight.
Wake up and enjoy!
Let steep for at least 8 hours in a refrigerator 40° F or colder. Best to eat within 24 hours.