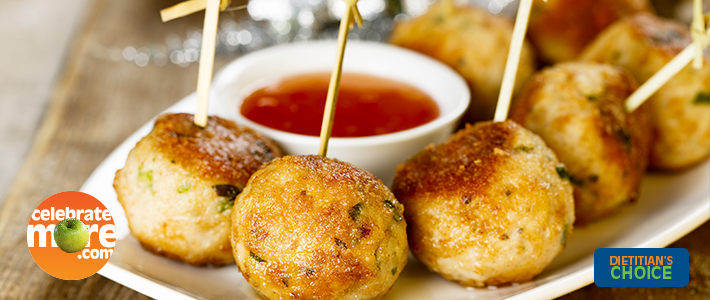 Mozzarella Stuffed Meatballs
Ingredients
3 Crystal Farms String Cheese Packets, unwrapped
1 Lb. Ground Turkey
1 Large Egg
1/4 Cup Whole Wheat Panko Bread Crumbs
1 Green Onion (optional)
2 tsp Garlic Powder
2 tsp Chili Powder
2 tsp Italian Seasoning
Salt and pepper to taste
Instructions
Preheat oven to 400°F.
Add parchment paper to a large cookie sheet and set aside.
Using a kitchen scissors, cut each string cheese packet into 4 pieces. Set aside.
Chop green onion.
In a medium bowl, combine all ingredients except string cheese packets. Mix until well-combined.
Form meatball mixture into 1-inch balls around each string cheese piece and place on cookie sheet. Repeat with remaining string cheese and meatball mixture.
Bake for 15-20 minutes or until cooked through.
Serve with a toothpick and favorite dipping sauce!