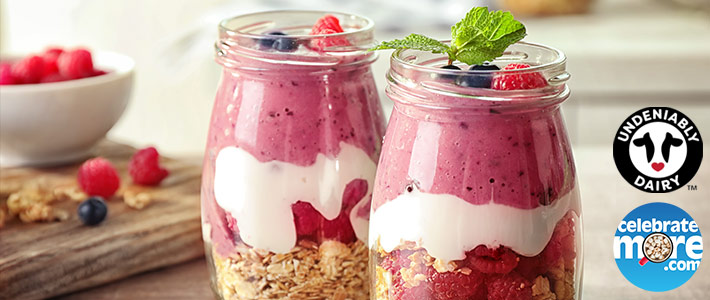 It's February, which according to a U.S. News & World Report, 80 percent of our New Year's resolutions have failed by now. Although the success rates of these resolutions are small, who says you can't be in the 20% that do succeed? As dietitians, we often have our clients seek out our help with their nutrition resolutions. While many ask what the ideal diet looks like, we love to work with our clients and share that rather than diets, what we eat should be a balance of all foods. Restricting certain foods or food groups can often make us feel deprived and cause us to fall in and out of diets. By focusing on foods that both we enjoy and nourish our bodies, we can find peace with foods and meet our nutrition goals! Looking for easy recipes to help you meet your goals? Check out a few of our favorite recipes that contain nutrients such as protein, calcium, vitamin D, and B vitamins from you guessed it—dairy!
Blueberry, Avocado & Banana Smoothie Bowl
Serves: 1-2
Ingredients
1 Cup Blueberry Low-Fat Kefir
1 Cup Frozen Blueberries
2 Tbsp. Avocado
1 Banana, frozen
Additional Toppings
Granola
Blueberries
Banana Slices
Fresh Mint
Instructions
Blend all ingredients in blender or food processor until smooth.
Pour into 1-2 Bowls. Top with desired toppings.
*Try adding 1 Tbsp Ground Flaxseed or 1 Tbsp Chia Seeds for added nutrition!
Buttermilk Green Goddess Dressing
Yield: 1 Cup
Ingredients
1/2 Cup Mayonnaise with Olive Oil
1/3 Cup Buttermilk
1/4 Cup Fresh Chives, chopped
1/4 Cup Fresh Parsley, roughly chopped
1 Tbsp. Fresh Tarragon, chopped
1 Tbsp. Fresh Lemon Juice
2 Anchovy Fillets in Oil, drained and chopped
1 Medium Garlic Clove
Salt and Pepper, to taste
Instructions
In a bowl of a food processor, combine ingredients and puree until smooth. Season with salt and pepper, to taste.
Serve immediately or cover and chill up to 3 days.
Butternut Squash Mac & Cheese
Ingredients
2 cups butternut squash, peeled and cubed
10 ounces pasta, dry
2 tablespoons low-sodium vegetable broth
1 1/2 tablespoons butter
1 1/2 tablespoons flour
1 tablespoon garlic powder
3/4 cup skim milk
2 1/2 cups shredded cheddar cheese
Instructions
Bring a large pot of water to boil and add butternut squash. Cook until squash is softened and drain. Alternatively, microwave squash until softened (about 4-5 minutes).
Prepare pasta according to box. Drain and set aside.
Place squash and vegetable broth in food processor or blender. Pulse until mixture is smooth. Add water by 1/4 teaspoon if mixture is too firm.
Heat butter over medium-low heat until melted in a small saucepan. Whisk in flour and cook 1-2 minutes.
Whisk in garlic powder, milk and squash. Continue to whisk for another 1-2 minutes' mixture thickens.
Once thickened, add cheese and whisk until melted (about 5 minutes). Stir mixture into pasta.
Looking for more undeniably delicious dairy recipes? Check out DairyGood.org.