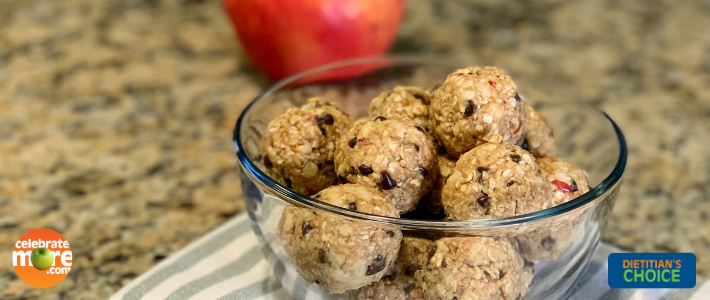 No Bake Apple Energy Bites
Ingredients
3/4 Cup Apple, grated
1 3/4 Cut Oats
3/4 Cup Chunky Nut Butter
2 Tbsp. Ground Flaxseed
2 Tbsp. Honey
3/4 tsp Ground Cinnamon
Instructions
As always, the first step is to wash hands and wash all fresh produce under running water.
Start by shredding the apple with a cheese grater, or your food processor. If you have a small apple, shred the entire apple. If you have a large apple, shred about 3/4 of it. Add the apple shred into a large mixing bowl.
Add, oats, nut butter, ground flaxseed, honey, and ground cinnamon to the same mixing bowl.
With a spatula (or with clean hands), combine all the ingredients until well mixed.
Roll the mixture into small, bite-sized balls. Place them in a sealed container and refrigerate until ready to eat. They will keep up to 3-4 days in refrigerator. You can also keep them in the freezer, too!
Notes
Let the kids get a little messy in the kitchen and encourage them to mix with their hands. This is a great option for part of a breakfast, adding to lunches or even an after school snack.