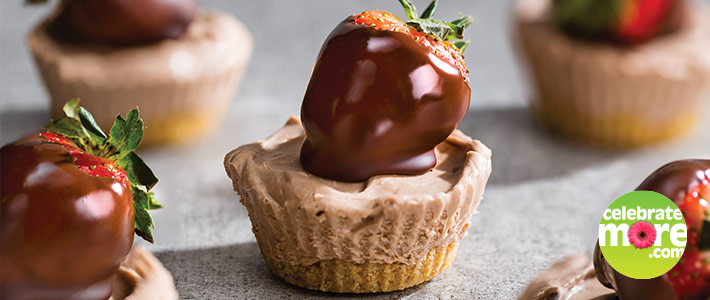 No-Bake Mini Chocolate Cheesecakes with Chocolate Covered Strawberries
Serving Size
1 cheesecake
Ingredients
12 Standard Silicone Baking Cups or 12 paper baking cups
¾ Cup Graham Cracker Crumbs
2 Tbsp. Granulated Sugar
2 Tbsp. Unsalted Butter, melted
1 Package (8 Oz.) Cream Cheese, softened
½ Cup Powdered Sugar
1/3 Cup Hazelnut Spread
¼ Cup Heavy Cream
1 tsp. Vanilla Extract
1 Cup Dark Chocolate Chips
1 Tbsp. Vegetable Oil
12 Strawberries
Instructions
Line standard-size muffin pan with baking cups; if using paper cups, spray with nonstick cooking spray. In medium bowl, stir graham cracker crumbs, granulated sugar and butter. Press graham cracker mixture into bottom of baking cups; freeze 10 minutes.
In large bowl, beat cream cheese, powdered sugar and hazelnut spread with mixer on medium speed 2 minutes or until incorporated. Add cream and vanilla extract; beat on medium-high speed 2 minutes or until light and fluffy. Divide cheese mixture into baking cups; freeze at least 2 hours or up to overnight.
Remove cheesecakes from baking cups. In small microwave-safe bowl, heat chocolate chips in microwave oven on high 1 minute or until melted, stirring every 20 seconds; stir in oil.
Working with 1 strawberry at a time, hold strawberry by the top and dip in chocolate to coat; place on top of 1 cheesecake. Repeat with remaining strawberries and cheesecakes. Reheat melted chocolate as necessary if it begins to harden. Refrigerate cheesecakes 10 minutes or until chocolate hardens. Makes 12 cheesecakes.
Percent Daily Values are based on a 2,000 calorie diet. Your daily values may be higher or lower depending on your calorie needs.