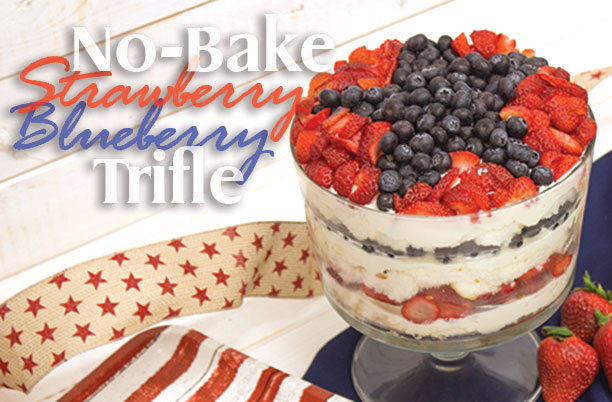 No-Bake Strawberry Blueberry Trifle
Ingredients
17 Oz. Angel Food Cake, cut into 1 inch cubes
1 Lb. Fresh Strawberries, hulled and sliced
1 Lb. Fresh Blueberries
1/4 Cup Water
2 Tbsp. Sugar
2 Tbsp. Lemon Juice
2- 8 oz. Pkgs. Cream Cheese, softened
3/4 Cup Sugar
2 Cups Heavy Whipping Cream
1/2 tsp Vanilla
Instructions
In a measuring cup, combine water, 2 Tbsp. sugar and lemon juice and stir until sugar is dissolved. Set aside.
Beat together cream cheese and 3/4 cup sugar on medium speed until creamy and smooth.
With mixer on, pour in heavy cream, then turn mixer to medium/high and continue beating until consistency of whipped cream.
Add vanilla and beat until incorporated.
Place 1/3 of angel food cake into the bottom of a trifle dish and brush with 1/3 of lemon syrup.
Add 1/3 of cream and loosely spread it over cake pieces.
Add 1/2 of the strawberries.
Repeat with remaining ingredients (adding 1/2 of the blueberries for the second fruit layer).
Frost the top with last 1/3 of cream and decorate with remaining fruit.