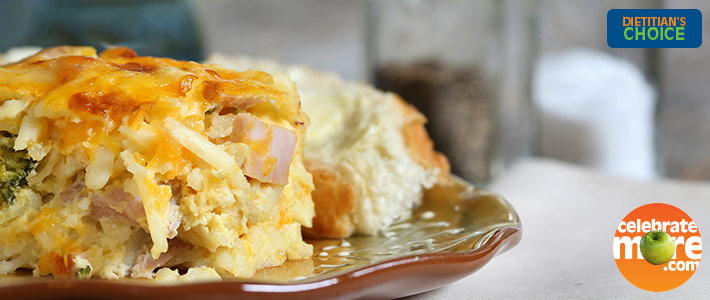 Crock Pot Overnight Egg Bake
Ingredients
1 Tbsp Olive Oil
1 Onion, diced
1 Lb. 93% Lean Ground Beef
2 tsp Rosemary, divided
2 tsp Thyme, divided
3 tsp Ground Pepper, divided
2 Garlic Cloves, minced
12 Eggs
1/2 Cup Skim Milk
1 1/2 tsp Garlic Powder
2 tsp Crushed Red Pepper
26 Oz. Frozen Hash Browns
1 Red Bell Pepper, diced
1 Green Bell Pepper, diced
2 Cups Shredded Cheddar Cheese
Instructions
In a medium skillet over medium heat, heat oil and onion until cooked, about 5 minutes.
In the same pan add ground beef, 1 tsp rosemary, 1 tsp thyme, 1 1/2 tsp ground pepper and garlic. Cook until browned. Set aside.
In medium bowl, whisk together eggs and remaining rosemary, thyme, ground pepper, garlic powder, crushed red pepper and milk. Set aside.
Add half of hash browns to 3.5 quart crockpot.
Top with half of beef mixture, cheese and bell peppers. Repeat with other half of each.
Top evenly with egg mixture.
Set on high for 4 hours, or low for 6-8 hours until evenly cooked and slightly brown around the edges.