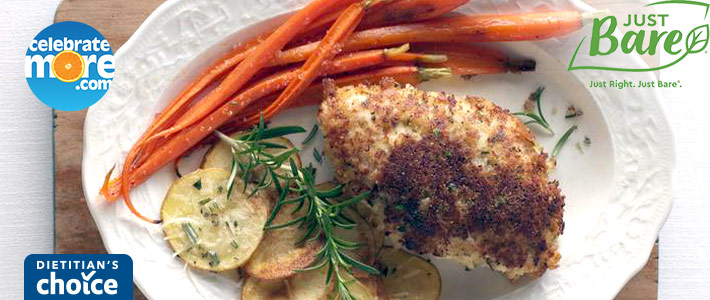 Parmesan Crusted Chicken Breasts
Ingredients
Chicken
1 egg
1/2 C. Whole Grain Bread Crumbs
1/2 C. Fresh Grated Parmesan Cheese
1/2 tsp. Coarse Ground Pepper
1/4 tsp. Salt
1 tsp. Finely Chopped Fresh Rosemary Sprigs
2-3 (14 Oz.) Just Bare Skinless Chicken Breasts
2 Tbsp. Olive Oil, divided
1/4 C. Finely Chopped Fresh Parsley
Chips
3 Tbsp. Extra Virgin Olive Oil
4 Medium Yukon Gold Potatoes, thinly sliced
1/4 C. Fresh Grated Parmesan Cheese
2 tsp. Finely Chopped Fresh Rosemary Sprigs
Dip
1/4 C. Olive Oil Mayonnaise
2 Tbsp. Fresh Grated Parmesan Cheese
1/2 tsp. Coarse Salt
Instructions
Preheat the oven to 425F.
Place the potatoes on a baking sheet. Drizzle with olive oil and salt, then toss to coat. Finally, arrange the potatoes in an even layer on the baking sheet.
Bake the potatoes for 15-20 minutes, watching closely. The thinner your potato slices, the more likely they are to burn. Once the potatoes brown, turn off the oven and allow them to sit for 10 minutes inside the oven. This will help them to crisp!
Meanwhile, whisk the egg in a shallow bowl.
Stir together the breadcrumbs, Parmesan cheese, pepper, salt, and rosemary in a shallow plate. Dip a chicken breast in the egg then toss in the bread crumb mixture to coat. Repeat with the remaining chicken breasts.
Heat 1 Tbsp. olive oil in a large pan over medium heat. Cook the chicken breasts for 6-8 minutes per side, or until golden brown. Cook to an internal temperature of 165F. Add additional olive oil as the chicken cooks, if necessary.
Sprinkle the cooked chicken with parsley.
Pull potatoes out of the oven and sprinkle them with Parmesan cheese and rosemary.
Meanwhile, stir together all the dip ingredients in a small bowl.
Plate your chicken breasts, potatoes, and dip together and enjoy!
These Parmesan Crusted Chicken Breasts served with homemade potato chips and a delicious dip are perfect for dinner tonight. Our dietitians are adding new recipes all the time, so check out our Dietitians Choice Recipes page for all their latest recipes!
Shop from the comfort of your home! You can shop online at any of our proud family of stores for these recipe ingredients as well as the rest of your grocery list! We offer curbside pick up at all locations and delivery in select locations as well. Don't forget to connect your MORE Rewards account when you shop online for extra savings, digital coupons, and many other rewards too!
Shop Ingredients