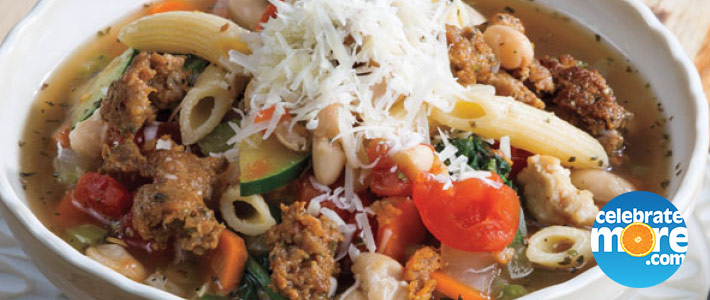 Coborn's Hot Dish Recipe Contest Winner
Pasta Fagioli Soup
1pound ground turkey
1 pound Italian sausage (spicy or mild)
1 large onion, diced
1 cup chopped celery
1-2 cups fresh spinach, chopped
1 cup sliced carrots
1 cup sliced zucchini
1 can (28 ounces) diced tomatoes
2 cans (16 ounces each) cannellini beans (I used canned navy beans the 2nd time I made it and couldn't tell the difference)
4 cups chicken broth (or more if needed)
1 cup beef broth
1 cup dried penne pasta
2 tablespoons dried parsley
1 tablespoon oregano
1 tablespoon sweet basil
2-3 dashes Tabasco® sauce
Salt to taste
Pepper to taste
1.In stockpot, brown the turkey and sausage, crumbling with side of spoon as meat cooks.

2.Add onion, celery, spinach, carrots, zucchini, and tomatoes with their juice, beans, chicken broth, beef broth, penne pasta, parsley, oregano, sweet basil and Tabasco. Simmer until vegetables are tender. Season to taste with salt and pepper.

Helpful Tips:
Serve with crusty bread.
This makes a large batch. If you want to freeze portions for later use, omit the pasta and simply add when reheating.
Congrats to our recipe contest winner, Susan P. from New Prague, MN