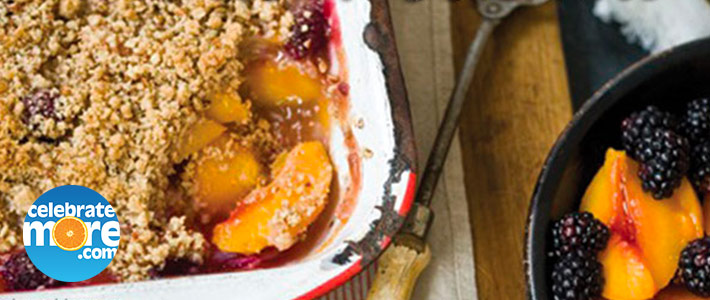 Peach And Blackberry Pecan Crumble
Ingredients
Filling
1/4 Cup Sugar
3 T. Cornstarch
1/4 tsp. Allspice
4 Georgia Peaches, peeled and cut into 1/2 inch wedges
2 Cups Fresh Blackberries, room temperature
Crumble
2/3 Cup All-purpose Flour
1/2 Cup Brown Sugar
1/2 tsp. Ground Cinnamon
1/4 tsp. Kosher Salt
4 T. Butter, softened
2/3 Cup Pecans, coarsely chopped
Instructions
Preheat oven to 375°F.
Grease a 9-inch baking dish with butter or cooking spray and set aside.
In a small bowl combine sugar, cornstarch and allspice.
Combine peaches and berries in a large bowl and toss with sugar mixture.
Spread evenly into baking dish and set aside.
In a medium bowl, combine flour, sugar, cinnamon, and 1/8 teaspoon salt.
Using the back of a fork, incorporate butter into flour mixture until it resembles small peas.
Stir in pecans and spread mixture evenly over fruit.
Bake for 45-50 minutes until fruit is bubbly and crust is golden brown.
Serve with fresh whipped cream or vanilla ice cream if desired.