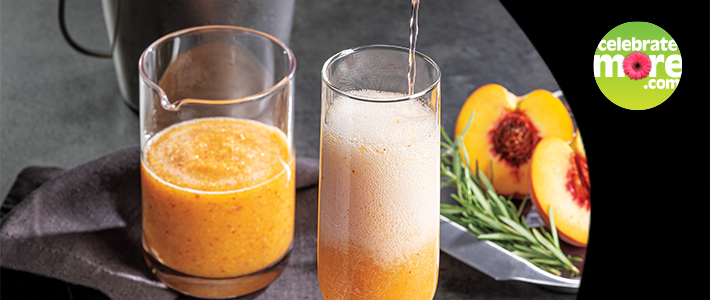 Ingredients
2 Large Peaches, yellow and/or white peaches, pitted and diced plus additional slices for serving (optional)
3 Tbsp. Fresh Lemon Juice
1 Tbsp. Honey
1 Bottle (750 mL) Sparkling Brut Rosé Wine
Rosemary Sprigs for garnish (optional)
Instructions
In blender, pureé peaches, lemon juice and honey; strain through fine-mesh strainer. Makes about 1½ cups.
In 6 champagne flutes, add ¼ cup peach purée; top each with ½ cup wine and stir gently. Serve garnished with peach slices and/or rosemary sprigs, if desired.
Percent Daily Values are based on a 2,000 calorie diet. Your daily values may be higher or lower depending on your calorie needs.