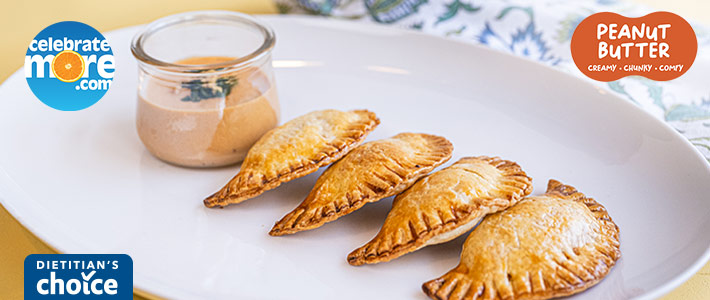 Peanut Empanadas With Peanut Sauce
Ingredients
Empanadas
1 Medium Sweet Potato
2 Tbsp. Peanut Butter
1/4 C. Chopped Peanuts
1 Tbsp. Tomato Paste
Juice of 1/2 Lime
1/2 tsp. Smoked Paprika
1/2 tsp. Cumin
1/4 tsp. Red Pepper Flakes
1/2 tsp. Salt
1 Tbsp. Finely Chopped Green Onion
2 Tbsp. Chopped Cilantro (optional)
2 Refrigerated Pie Crusts (or 2 frozen that have been thawed)
All-Purpose Flour, as needed
1 Egg
Peanut Sauce
1 Clove Garlic, finely minced
1/2 C. Peanut Butter
Water
1/4 tsp. Red Pepper Flakes (or more to taste)
Juice of 1 1/2 Limes
1 tsp. Tomato Paste
1/2 tsp. Salt
Instructions
Preheat the oven to 400 degrees.
Meanwhile, scrub the sweet potato and pierce several times with a fork, then microwave until cooked through. Scoop the flesh of the sweet potato into a bowl and discard the skin. Mash well and then add all other ingredients, except the dough and egg, mixing well.
Lightly beat the egg in a small bowl.
Dust a counter or pastry mat with flour, then roll the dough out (one at a time) until very thin. Cut out 4" circles using a biscuit or cookie cutter.
Fill each dough round with 2 teaspoons of filling. Using a pastry brush, lightly moisten half of the edge of the empanada and fold in half. Use a fork to crimp the edges closed. Repeat until all 20 are done.
Place on a sheet pan that has been lined with a silicone baking mat or parchment paper. Brush each empanada lightly with egg and bake for about 15 minutes or until golden brown.
For Sauce:
While the empanadas cook, make the sauce by mixing all ingredients together in a bowl. Add warm water until the sauce is the consistency you prefer.
Serve the empanadas warm with the sauce.
Notes
Recipe and image provided with permission by National Peanut Board. 
Original recipe by Sherry Coleman Collins, MS, RDN, LD
Serve these Peanut Empanadas With Peanut Sauce nice and warm for a flavorful meal that the whole family will enjoy. Our dietitian's are adding new recipes all the time, so check out our Dietitians Choice Recipes page for all their latest recipes!
Shop from the comfort of your home! You can shop online at any of our proud family of stores for these recipe ingredients as well as the rest of your grocery list! We offer curbside pick up at all locations and delivery in select locations as well. Don't forget to connect your MORE Rewards account when you shop online for extra savings, digital coupons, and many other rewards too!
Shop Ingredients