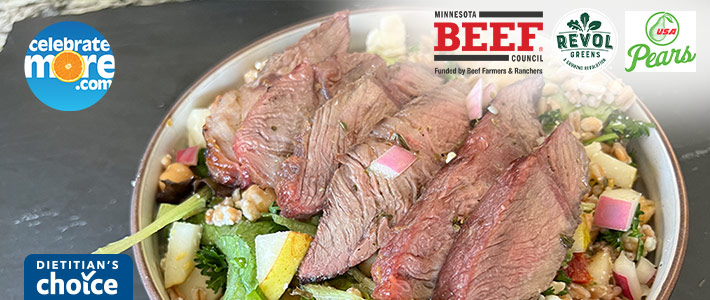 Prep Time
1 hour, 15 minutes
Total Time
1 hour, 30 minutes
Ingredients
For The Steak
1 Tri-Tip Roast (about 2 Lbs.)
1 Lemon, zested and juiced
½ C. Extra Virgin Olive Oil
2 tsp. Maple Syrup
For The Salad
1/3 C. Walnuts
1 C. Uncooked Barley
1 C. Chickpeas
2 green Anjou Pears, divided
1/3 C. Sun Dried Tomatoes, chopped
3/4 C. Feta Cheese, crumbled
1/4 C. Fresh Parsley, chopped
1 Handful Revol Greens Spring Mix
For The Dressing
3 Tbsp. Red Onion, minced
1/4 C. Apple Cider Vinegar
1/3 C. Extra Virgin Olive Oil
2 tsp. Maple Syrup
1 tsp. Dijon Mustard
1 tsp. Dried Oregano
1/2 tsp. Sea Salt
1/4 tsp. Pepper
Instructions
Marinate the steak: Combine all marinade ingredients in a plastic bag and seal. Place in refrigerator to marinate for 1 hour, up to 12 hours.
Cook the beef: Preheat oven to 350F. Roast the Tri-Tip until it reaches an internal temperature of 145F for medium rare, about 30-40 minutes. Allow to rest for 5 minutes before cutting.
Meanwhile, cook barley according to package instructions and drain.
Toast walnuts in a small skillet. Let cool.
Add minced onion in a small bowl with the vinegar and allow to marinate while you prep the salad.
Chop 1 ½ pears and save remaining half for fanning and decorating the salad.
Add cooked barley, chickpeas, pear, sun dried tomatoes, arugula, parsley, and feta into a large bowl.
Add remaining dressing ingredients into the bowl with the vinegar and red onion and whisk until combined.
Pour dressing over the salad mixture and toss to coat. Taste and season with additional salt and pepper, if needed.
Finally, top the salad with steak slices and enjoy!
If you're looking for a hearty and filling lunch, this Pear Barley Salad is just the thing! It's sweet, savory, and nutritious! Our dietitian's are adding new recipes all the time, so check out our Dietitians Choice Recipes page for all their latest recipes!
Shop from the comfort of your home! You can shop online at any of our proud family of stores for these recipe ingredients as well as the rest of your grocery list! We offer curbside pick up at all locations and delivery in select locations as well. Don't forget to connect your MORE Rewards account when you shop online for extra savings, digital coupons, and many other rewards too!
Shop Ingredients