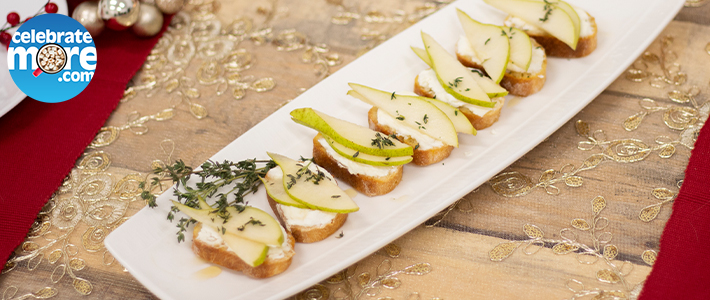 Pear & Ricotta Crostini with Honey & Thyme
Ingredients
Soft French Baguette, sliced 1/4" thick
Olive Oil
Whole Milk Ricotta Cheese
Pears, thinly sliced
Honey
Dried Thyme, as garnish
Crushed Red Chile Flakes or Crushed Black Pepper, garnish
Flaky Sea Salt, as garnish
Instructions
Preheat the broiler.
Arrange sliced baguette on a rimmed baking sheet and drizzle lightly with olive oil. Broil until golden and toasty, only 1-2 minutes.
Just before serving, top toasts with a generous smear of the whole milk ricotta, a couple of pear slices and a drizzle of honey. Lightly crush dried thyme in the palm of your hand and sprinkle over top. Finish with chili flakes (or black pepper) and a good sprinkle of sea salt. Enjoy!
Shop Ingredients