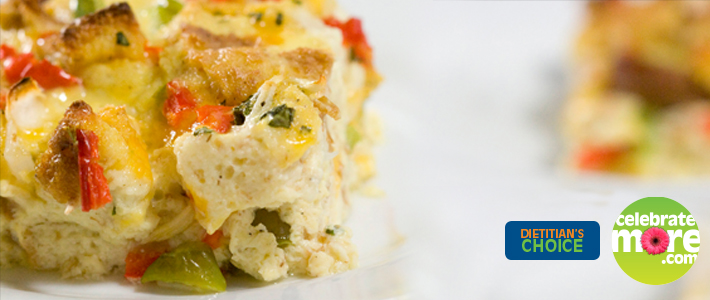 This tasty brunch casserole filled with eggs, veggies, and cheese will allow you to spend more time with you family and less time in the kitchen. 
Total Time
1 hour, 20 minutes
Ingredients
6 Eggs, beaten
2 Cups Low Fat Milk
1 Cup Shredded Cheddar Cheese
1 Cup Colby or Monterey Jack Cheese
1 tsp. Ground Mustard
1/2 tsp. Black Pepper, ground
1/4 tsp. Salt
6 Sliced Whole Wheat Bread, cubed
12 oz Turkey Kielbasa, cut into 1/2 inch pieces
1 1/2 Cups Chopped Onion (About 2 small onions)
1 Cup Green Pepper, chopped (About 1 pepper)
1 Cup Red Pepper, chopped (About 1 pepper)
1/4 Cup Fresh Basil, chopped
Instructions
In a large bowl, whisk together eggs, milk, cheese, mustard, pepper and salt. Add bread, kielbasa, onions and peppers; stir well until the bread is completely absorbed. Cover bowl and refrigerate at least 12 hours.
Preheat oven to 350 degrees. Stir basil into egg mixture. Pour into a 9×13-inch baking dish and bake for 1 hour or until eggs are set.