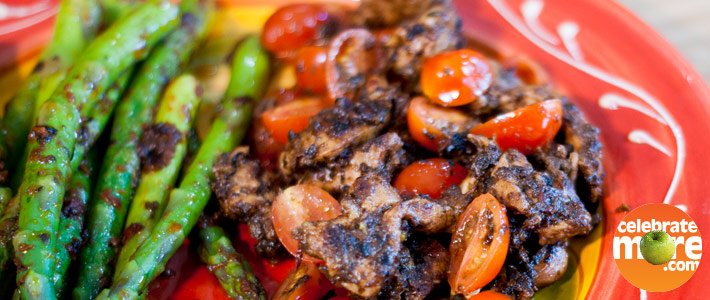 Pesto Chicken with Veggies
Ingredients
2 T. Olive Oil
1 lb. Boneless Skinless Chicken Thighs, sliced into strips
1/3 Cup Bruschetta Sundried Tomato
1 lb. Fresh Asparagus, ends trimmed and then cut in half
1/4 Cup Basil Pesto
1 Cup Grape or Cherry Tomatoes, halved
Instructions
Heat a large skillet on medium heat, add 2 tablespoons olive oil, add sliced chicken thighs. Season chicken generously with salt, add Bruschetta sundried tomatoes and cook everything on medium heat for 5 to 10 minutes, flipping a couple of times, until the chicken is completely cooked thorough and internal temperature of chicken reaches 165°F.
Remove chicken from skillet temporarily.
Add asparagus to skillet and cook on medium heat for 5 to 10 minutes until the asparagus is cooked through.
Remove from skillet and keep warm.
Add chicken back to the skillet and then add the basil pesto and mix together.
Heat on low medium heat until chicken is reheated 1 or 2 minutes.
Remove from heat and add the tomatoes and stir together.
Place asparagus onto a serving plate with the chicken and you are ready to enjoy.