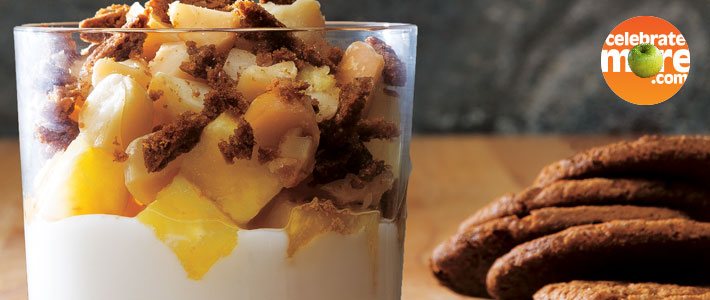 Pineapple, Yogurt & Macadamia Parfait
Ingredients
½ Cup Chopped Raw Macadamia Nuts
1 1/3 Cups Plain Nonfat Greek Yogurt
1½ Tbsp. Honey
1 Cup Diced Fresh Pineapple
4 Gingersnap Cookies, crushed
Instructions
In large skillet, toast nuts over medium-high heat 4 minutes or until lightly browned and fragrant, stirring frequently; transfer to plate to cool.
In small bowl, stir yogurt and honey.
In 4 (8-ounce) serving jars, layer yogurt mixture, nuts and pineapple; sprinkle with cookies.
Percent Daily Values are based on a 2,000 calorie diet. Your daily values may be higher or lower depending on your calorie needs.