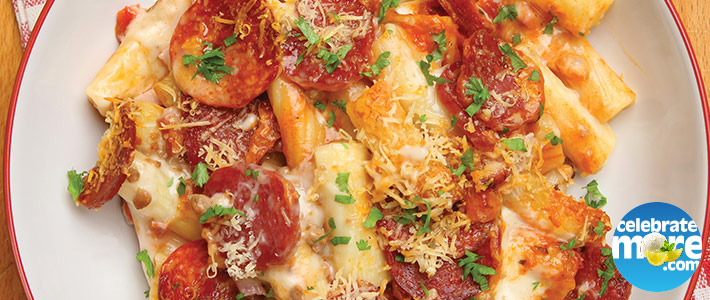 Ingredients
8 Oz. Uncooked Food Club Rigatoni
3/4 Lb. Ground Beef
1/2 Cup Onion, chopped
15 Oz. Food Club Pizza Sauce
2/3 Cup Food Club Cream of Mushroom Soup, undiluted
2 Cups Food Club Shredded Mozzarella Cheese
3 1/2 Oz. Sliced Pepperoni
3.8 Oz. Food Club Sliced Black Olives
14.5 Oz. Food Club Diced Tomatoes with Onions
Instructions
Cook rigatoni according to package directions; drain.
Meanwhile, in large skillet, cook beef and onion over medium heat 6-8 minutes until beef is no longer pink, breaking up beef into crumbles; drain. Add pizza sauce, soup, cheese, tomatoes and sliced olives; cook and stir over low heat until cheese is melted.
Add rigatoni and pepperoni to beef mixture. Heat through, stirring to combine.