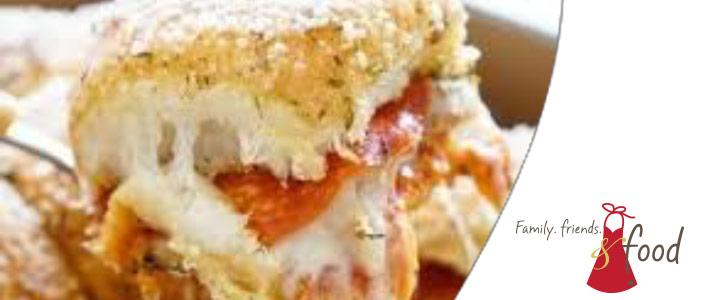 Ingredients
1 Package Dinner Rolls
¾ Cup Pizza Sauce
12 Slices Mozzarella Cheese
1 Package Pepperoni Slices
½ Cup Sausage, cooked and crumbled

Butter Topping:

½ Cup Butter, melted
1 Tbsp. Grated Parmesan Cheese
1 tsp Garlic Salt
1 tsp Onion Powder
1 tsp Dried Oregano
¼ tsp Crushed Red Pepper
Instructions
Preheat oven to 350°F. Spray the bottom of 9x13 baking dish with nonstick spray.
Slice the rolls horizontally to make a top and bottom bun.
Place bottom bun into prepared baking dish.
Spread pizza sauce onto rolls.
Add 6 slices of cheese covering all the pizza sauce.
On top of the cheese layer, add slices of pepperoni.
Sprinkle the top of the pepperoni with crumbled sausage.
Add the remaining 6 slices of cheese on top.
Cover all with the top bun.
For seasoned buttery topping: Combine all ingredients in a bowl and stir well.
Spread butter topping with brush over top of sliders.
Cover with foil and bake for 15 minutes.