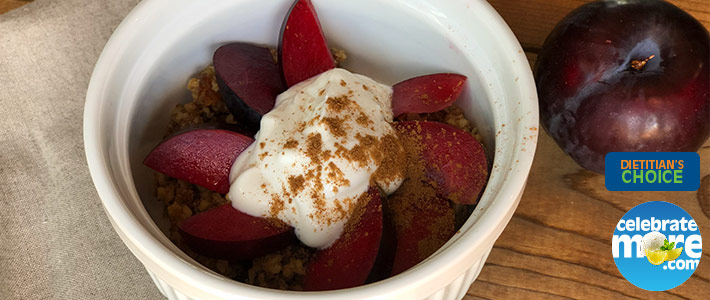 Ingredients
3/4 Cup Dates, pited
1 Cup Raw Walnuts
2 Tbsp. Ground Flaxseed
1/2 tsp. Pure Vanilla Extract
Pinch of Ground Cinnamon, plus more for garnish
Pinch of Sea Salt
5 Fresh Pluots, pitted and sliced
Vanilla Greek Yogurt, to serve
Instructions
Add dates, walnuts, flax seed, vanilla, cinnamon, and salt in a food processor and pulse until the mixture has the consistency of a crumble. Transfer to a small bowl.
Divide the pluots between four bowls. Spoon equal amounts of the crumble on top of the fruit.
Serve with a dollop of Greek yogurt and a sprinkle of cinnamon. Serve immediately.