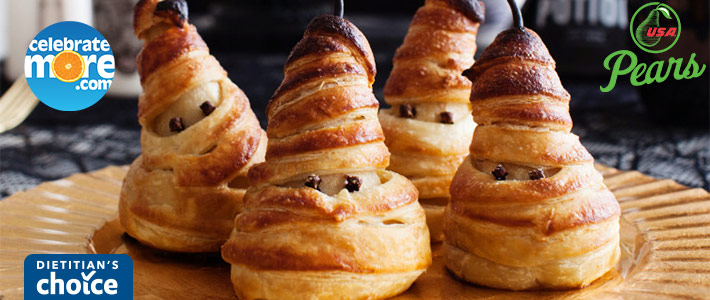 Poached Pear Mummies
Try making something new for this year's Halloween feast with these delicious and spooky Poached Pear Mummies! Our dietitians are adding new recipes all the time, so check out our Dietitians Choice Recipes page for all their latest recipes!
Shop from the comfort of your home! You can shop online at any of our proud family of stores for these recipe ingredients as well as the rest of your grocery list! We offer curbside pick up at all locations and delivery in select locations as well. Don't forget to connect your MORE Rewards account when you shop online for extra savings, digital coupons, and many other rewards too!
Ingredients
6 Large, Firm Pears (preferably ones that are straight and tall)
1 C. Sugar
4 C. Water
2 Cinnamon Sticks
1 Orange, zest only
12 Whole Cloves
1 Package Puff Pastry
1 Egg
Instructions
Peel the pears, keeping the stems intact.
In a large saucepot combine the sugar, water, cinnamon and orange zest and slowly bring to a boil, stirring until the sugar is dissolved. Boil for three minutes.
Add the pears to the pot. Bring back to a boil, then reduce heat to a simmer and cook for 15 minutes. Reserving the syrup, remove the pears from the pot with a slotted spoon and set aside to cool.
Return syrup to a rapid boil for 10-15 minutes until the volume of the liquid is reduced by half and the syrup is thick. Remove from heat and set aside to cool.
Preheat the oven to 400F.
When the fruit and syrup are cool, use a melon baller or small teaspoon to remove the core from the pears.
Roll out the chilled puff pastry to a thickness of no more than 1/4 inch. Cut into thin, long strips, about 1/3 inch wide.
Brush the pears with the cooled sugar syrup and starting from the bottom, wrap the pastry strips around the pears. When you come to the end of the pastry strip, brush the end lightly with syrup and press to adhere to the next pastry strip. Leave an opening near the center of the pear for the eyes. Continue wrapping until you reach the top of the pear. Place two cloves into the pear where you want the eyes to be.
Place the pastry covered pears on a baking tray. Beat the egg into a small bowl, brush the pastry with egg. Bake for 25-30 minutes.
Remove from oven and cool for 10-15 minutes.
Notes
Recipe provided with permission from USA Pears. 
Shop Ingredients