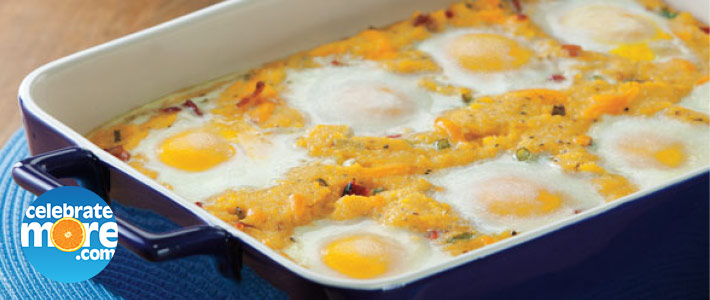 Polenta Breakfast Hot Dish
Prep: 15 minutes plus standing
Bake: 40 minutes • Serves: 8
8
slices smoked bacon (about 1/2 pound), cut crosswise into 1/2-inch pieces (decrease sodium and saturated fat by substituting low-sodium turkey bacon for regular smoked bacon)
2
cans (14 ounces each) less-sodium chicken broth
1
cup whole milk (try skim milk or 1% milk to reduce saturated fat!)
2
tablespoons unsalted butter
1
teaspoon chopped fresh thyme leaves
1/2
teaspoon salt
1/2
teaspoon ground black pepper
1-3/4
cups yellow cornmeal
1
package (8 ounces) shredded reduced fat sharp Cheddar cheese (2 cups)
5
green onions, thinly sliced
2
roasted red peppers, chopped (1-1/2 cups)
Nonstick cooking spray
8
large eggs
1.Preheat oven to 325°F. In large saucepot, cook bacon over medium-high heat 4 to 5 minutes or until bacon is crisp, stirring frequently. Discard most bacon fat.

2.Into same saucepot, add broth, milk, butter, thyme, salt and pepper; heat to boiling over medium-high heat. Gradually whisk in cornmeal until incorporated; reduce heat to medium-low and cook 4 minutes, whisking occasionally. Remove from heat; stir in cheese, onions and roasted red peppers.

3.Spray 9 x 13-inch glass or ceramic baking dish with nonstick cooking spray. Evenly spread polenta mixture in prepared dish. With back of large spoon, make 8 evenly spaced wells in polenta mixture. Bake 15 minutes.

4.Remove baking dish from oven. Carefully crack eggs, 1 at a time, into small cup. Slowly slide eggs into wells. Cover with aluminum foil; bake 15 to 18 minutes longer or to desired doneness. Remove from oven; let stand 5 minutes. To serve, cut into squares.


Approximate nutritional values per serving:
356 Calories, 18g Fat (9g Saturated), 224mg Cholesterol,
1752mg Sodium, 26g Carbohydrates, 3g Fiber, 21g Protein