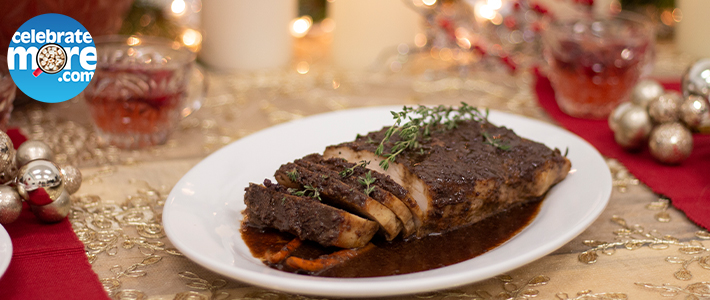 Pomegranate Glazed Pork Loin
Ingredients
1 Pork Tenderloin* (see note)
2-3 Carrots, halved lengthwise
1/4 tsp. Ground Cinnamon
1/4 tsp. Ground Cloves
1 Tbsp. + 1/4 tsp. Kosher Salt
2 C. Pomegranate Juice
4 Springs Fresh Thyme
3 Tbsp. Maple Syrup
2 Tbsp. Whole Grain Mustard
Instructions
Preheat the oven to 350°F.
Place carrot halves on the bottom of a small roasting pan and set aside.
Prepare the seasoning blend by combining cinnamon, cloves, and 1 tsp. salt in a small bowl. Mix to combine.
Prepare the pork loin by making shallow cuts (about 1 inch apart) in a cross-hatch pattern on meat of the loin. Sprinkle seasoning blend evenly over the loin and rub to coat. Place the seasoned pork loin on top of the carrots in the roasting pan.
Add 1/2 Cup of water to the bottom of the roasting pan and cook for about 15 -20 minutes, adding another 1/4 C. of water if the pan gets dry. *Cooking time may vary based on size of pork tenderloin.
While the pork is in the oven, prepare the sauce. In a small saucepan, combine pomegranate juice and thyme in a small saucepan. Place over medium heat and reduce by half. Approximately 15 minutes. Stir in maple syrup and mustard and continue to reduce until slightly thickened. Season with remaining 1/4 tsp. of salt and remove/discard the thyme.
Remove the pork tenderloin from the oven and baste with the pomegranate reduction sauce. Put back in the oven and roast for another 10-15 minutes, basting every 3-5 minutes, until internal temperate of pork reaches 145°F. Remove from the oven and cover with foil. Let rest for 3 minutes.
Slice and serve with additional pomegranate reduction sauce from the pan.
Notes
*Let pork tenderloin sit at room temperature for 30 minutes prior to cooking.
*Cooking time may vary based on the size of the pork tenderloin. Cook for approximately 25 minutes total per pound. Final internal temperature should be 145°F, then rest for 3 min. 
Shop Ingredients