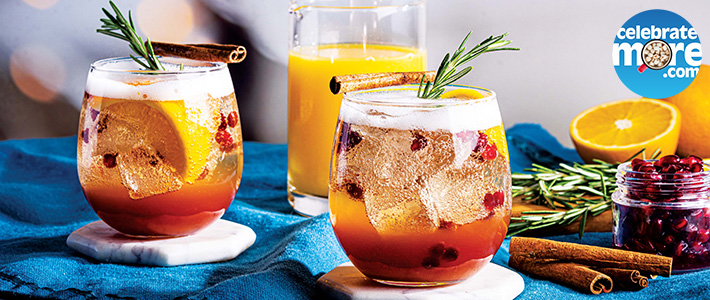 Pomegranate Orange Prosecco Spritz
A sweet way to celebrate the holidays! This Pomegranate-Orange Prosecco Spritz is the perfect cocktail or mocktail for your upcoming celebrations. 
Ingredients
Ice
1 Medium Navel Orange, cut into 4 wedges
1 Bottle (6.8 fluid ounces) nonalcoholic ginger beer
1/2 C. 100% Pomegranate Juice
1/2 C. Fresh Orange Juice
2 Tbsp. Pomegranate Arils
2 C. Sparkling Cider or Dry Prosecco
4 Cinnamon Sticks
4 Fresh Rosemary Sprigs
Instructions
Fill 4 (20-ounce) stemless wine glasses with ice. Squeeze orange wedges into glasses over ice; place wedges in glasses. Top with ginger beer, pomegranate juice, orange juice and pomegranate arils; stir gently. Top with cider; garnish with cinnamon sticks and rosemary sprigs.
Notes
Approximate nutritional values per serving (1 spritz): 169 Calories, 0g Fat, 0g Saturated Fat, 0mg Cholesterol, 15mg Sodium, 20g Carbohydrates, 1g Fiber, 17g Sugars, 6g Added Sugars, 1g Protein