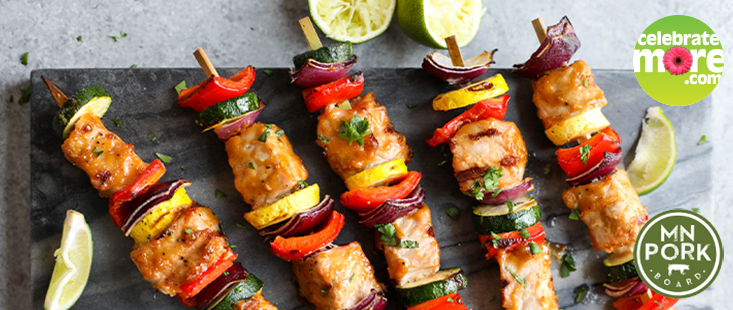 Grilled Pork Kebabs with Peanut Sauce
Ingredients
For the Sauce
1/4 C. Creamy Peanut Butter
Juice of 1 Large Orange (About 1/3 C.)
Juice of 1 Lime (About 1 Tbsp.)
1/4 C. Coconut Aminos
4 Tbsp. Rice Vinegar
3/4 tsp. Freshly Grated Ginger (may substitute ¼ tsp. dried ginger or to taste)
1 Cloves Garlic, peeled and minced (may substitute ¼ tsp garlic powder or to taste)
1/4 – 1/2 tsp. Crushed Red Pepper Flakes, optional
Salt, to taste
For the Kebabs
1 Lbs. Boneless, Thick-Cut Pork Chops
1/2 Small Red Onion
1 Medium Bell Pepper, any color
1 Medium Zucchini or Yellow Squash
1 tsp. Olive Oil or Avocado Oil
Instructions
Preheat grill to medium-high heat (400-450℉).
Make the peanut sauce by whisking or blending all of the sauce ingredients together. Taste and adjust seasonings as desired. Set half of the sauce aside for serving with the cooked kebabs.
To a bowl, add the pork cubes and half of the peanut sauce. Toss well to coat and set aside to marinate while you cut the vegetables into pieces and the grill heats up.
To make the kebabs, carefully thread the pork and vegetables onto skewers alternating meat and vegetables as you go. Brush the vegetables with the oil.
Place the kebabs directly onto the grill grate. Cook for 3-4 minutes per side or until the pork registers 145℉ on an instant-read thermometer and the vegetables are tender and slightly charred on the edges.
Remove kebabs from the grill to a clean plate and allow them to rest for 3-5 minutes before serving with reserved peanut sauce.
Free from Eggs | Free from Gluten | Free from Dairy
These Pork Kebabs with Peanut Sauce will definitely be a regular part of your grilling menu and a new favorite meal! You'll also have to try these Pineapple Salmon Kabobs for another tasty kebab option for grilling this summer.
Shop from the comfort of your home! You can shop online at any of our proud family of stores for these recipe ingredients as well as the rest of your grocery list! We offer curbside pick up at all locations and delivery in select locations as well. Don't forget to connect your MORE Rewards account when you shop online for extra savings, digital coupons, and many other rewards too!