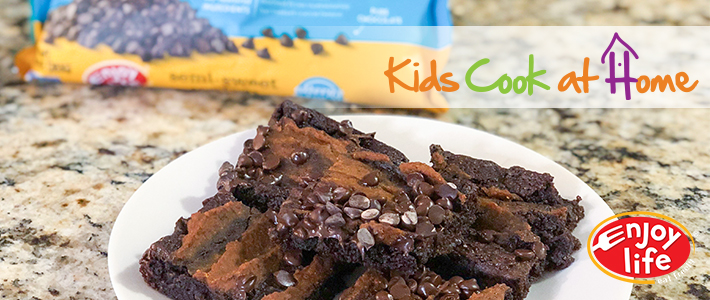 Ingredients
For The Brownies
1 Box of Brownie Mix
*Additional Ingredients Required for Brownies Recipe on Box
For The Pumpkin Mixture
1 1/4 C. Pumpkin Puree
1/4 Cup Pure maple Syrup 1/4 Cup. Gluten Free all Purpose Flour
1 tsp. Ground Cinnamon
1/2 tsp. Vanilla Extract
1/4 tsp Ground Nutmeg
1/4 tsp. Ground Ginger
1/4 tsp. Ground Cloves
Pinch of Salt
Instructions
Preheat the oven to the temperature stated on the recipe for the boxed brownies.
To make the brownies, put the brownie mix in a large bowl. Add the remaining ingredients suggested on the recipe found on the box of the brownies. Stir until well mixed.
Scrape the mixture into prepared pan, smoothing evenly. Bake for 10-15 minutes.
While the brownies are baking, prepare the pumpkin mixture.
Put the pumpkin puree, maple syrup, flour, cinnamon, vanilla extract, nutmeg, ginger, cloves, and salt in a large bowl. Briskly whisk until well combined.
After the brownies have baked for about 10 minutes, remove from the oven. Dollop the pumpkin mixture onto the par-baked brownies, swirling throughout the batter.
Bake for an additional 30-40 minutes, until a toothpick inserted in the brownies comes out clean, and the pumpkin portions are firm to the touch. (NOTE: Reduce the cooking time if using a 9x13 pan.) Let cool in the pan for at least 30 min to an hour.
Drizzle the chocolate chips over the top of the brownies once you pull them from the oven. They will melt and make a delicious topping.
Carefully remove the brownies from the pan, then cut into squares.
Serve, storing leftovers in an airtight container in the refrigerator for up to 3 days, and any other leftovers to the freezer.
Notes
Make these free of specific allergens by selecting all allergen free ingredients. Enjoy life is free of the top 8 allergens, but additional ingredients may contain some other allergens. Always check labels for allergen inforamtion. 
Recipe provided by Enjoy Life