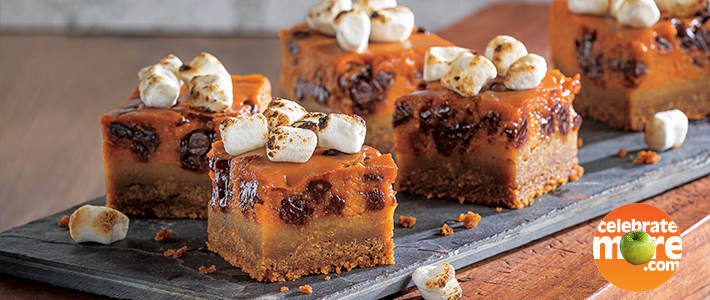 Total Time
1 hour, 16 minutes
Ingredients
Nonstick Cooking Spray
8 Graham Crackers, whole sheets, finely crushed
½ Cup plus 2 Tbsp. Brown Sugar
4 Tbsp. Unsalted Butter (½ stick), melted
1 Can (15 Oz.) 100% Pure Pumpkin
1 Can (12 Oz.) Evaporated Milk
2 Large Eggs
1 tsp Ground Cinnamon
½ tsp Ground Ginger
¼ tsp Salt
1 Cup Semisweet Chocolate Chips
1¼ Cups Mini Marshmallows
Instructions
Preheat oven to 350°F. Line 9-inch square baking dish with aluminum foil so that foil extends about 2 inches over sides of pan; spray with cooking spray.
In medium bowl, combine crushed graham crackers, 2 tablespoons brown sugar and butter; firmly press into bottom of prepared dish. Bake crust 10 minutes or until lightly browned; cool on wire rack.
In large bowl, whisk pumpkin, milk, eggs, cinnamon, ginger, salt and remaining ½ cup brown sugar; fold in ½ cup chocolate chips. Pour pumpkin mixture over crust and sprinkle with remaining ½ cup chocolate chips; bake 50 minutes or until knife inserted 1 inch from edge of dish comes out clean and center is almost set. Cool 30 minutes on wire rack; cover and refrigerate at least 3 hours or up to overnight.
Place oven rack 6 inches from source of heat; turn broiler to high. Sprinkle bar with marshmallows; toast under broiler 30 seconds or until marshmallows are golden brown. Using overhanging sides of foil, lift bar out of dish; transfer to cutting board. Remove foil; cut into 16 squares. Refrigerate bars in airtight container up to 1 week.
Percent Daily Values are based on a 2,000 calorie diet. Your daily values may be higher or lower depending on your calorie needs.