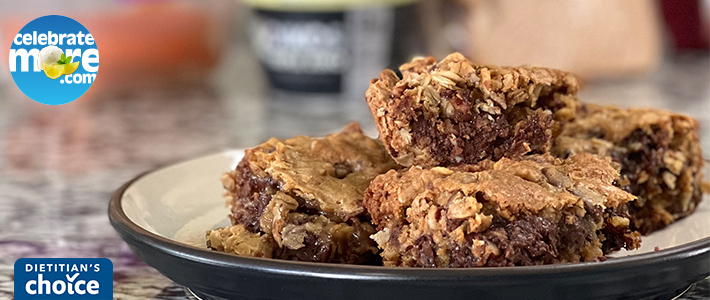 Quaker® Chewy Choc-Oat Chip Bars
These gooey bars make the perfect lunchbox treat! 
Ingredients
1 C. (2 sticks) Margarine or Butter (softened)
1 C. Firmly Packed Brown Sugar
1/2 C. Granulated Sugar
2 Tbsp. Milk
2 tsp Vanilla
1 3/4 Cups All-Purpose Flour
1 tsp Baking Soda
1/2 tsp Salt (optional)
2 1/2 C. Quaker Oats (quick or old fashioned, uncooked)
2 C. Semi-Sweet Chocolate Chips
1 C. Chopped Nuts
2 Eggs
Instructions
Heat oven to 375°F.
Wash hands with soap and water.
Beat margarine and sugars until creamy. Add eggs, milk, and vanilla; beat well. (Food Safety Tip: Don't forget to wash hands again after cracking your raw eggs!)
Add combined flour, baking soda, and salt; mix well. Stir in oats, chocolate chips, and nuts; mix well.
Press dough onto bottom of non-greased 13x9-inch baking pan.
Bake 30-35 minutes or until light golden brown.
Cool completely; cut into bars. Store tightly covered.
Notes
Original recipe provided in partnership with Quaker Oats. Recipe modified with additional food safety tips for Kids Cook at Home classes. 
Try replacing 1 Cup of Butter with 1/2 Cup of Applesauce for a lower fat option