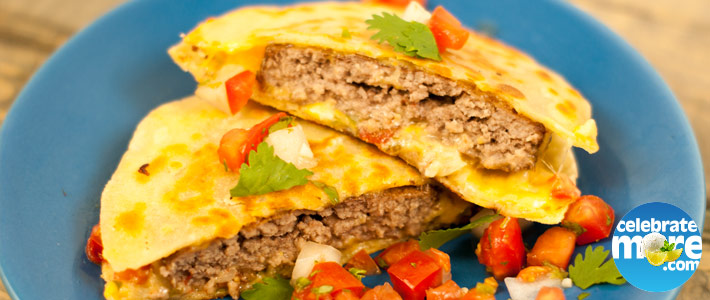 Ingredients
1 lb. ground beef
1 clove garlic, minced
1 jalapeño, minced
1 tsp. chili powder
salt and pepper, to taste
2 tbsp. vegetable oil, divided
8 Small corn or flour tortillas
2 cups shredded cheddar cheese
1 cup Pico de Gallo
1 bunch fresh cilantro, chopped
Instructions
Combine ground beef, garlic, jalapeño, and chili powder. Season with salt and pepper and mix well.
Divide mixture into four large, thin patties.
Heat 1 tablespoon oil in a large skillet over medium-high heat. Cook patties about 4 minutes per side, or until fully cooked.
Set burgers aside, covered to keep warm, and wipe skillet clean. In same skillet over medium heat, heat remaining oil. Add one tortilla and top with cheese.
Once cheese has melted and tortilla is browned, remove tortilla from pan and repeat with second tortilla.
Once second tortilla is almost browned, place burger in center along with pico de galo and cilantro. Top with the first tortilla. Remove from pan and serve hot.
Repeat for remaining ingredients and burgers.
Notes
Additional Topping Ideas: Avocado, Sour Cream, Lettuce, Tomato, Black Beans, Corn, Salsa