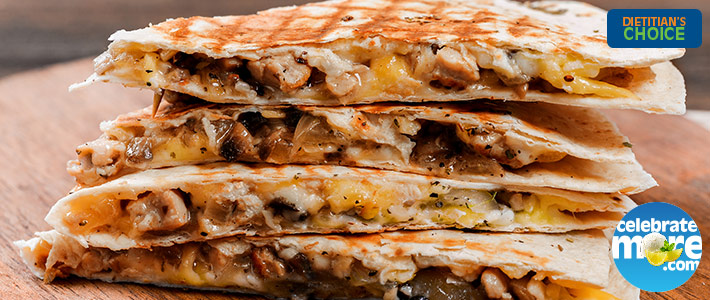 Ingredients
4 100% Whole Wheat or Corn Tortillas
2 Cups Shredded Cheese
Optional Toppings:
Onion, chopped
Peppers, chopped
Zucchini, chopped
Broccoli, chopped
Black Beans, drained and rinsed
Lean Protein (try shredded chicken, pork or beef)
Instructions
Spray a medium skillet with non-stick spray and warm over medium heat. Place one tortilla in the pan and top with 1/2 Cup of cheese. Add on any desired toppings. Add an additional 1/2 Cup of cheese and the second tortilla.
Heat for 2-3 minutes until the cheese starts to melt and the tortilla starts to brown. Flip halfway through and cook for another 1-2 minutes on the other size. Cut into 6-8 pieces.
Follow the same steps to make another quesadilla.
Notes
Dietitian's Tips: Don't have a stove? Cook your quesadillas in the microwave for 30-60 seconds to be sure it is cooked all the way through. Try serving with fresh garden salsa or guacamole.
Recipe provided by Reach Up Head Start, Early Head Start. Get more recipes here.