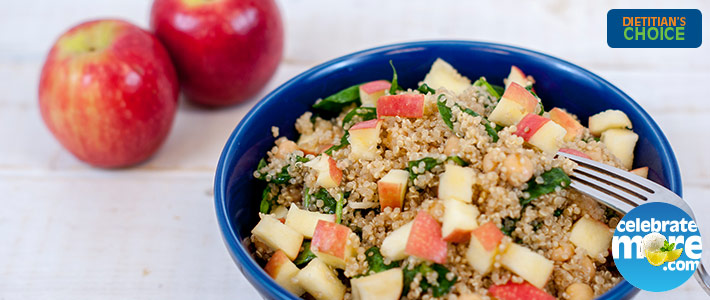 Quinoa Salad with Apples, Baby Spinach and Chick Peas in Maple Vinaigrette
Ingredients
1 Cup Quinoa, dry
2 Handfuls Baby Spinach Leaves, washed and drained
1 Large Apple, diced
1/2 Cup Chick Peas, drained and rinsed
2 Tbsp Fresh Chopped Parsley
Salt & Pepper To Taste
Vinaigrette
4 Tbsp Extra Virgin Olive Oil
3 Tbsp Balsamic Vinegar
2 Tbsp Pure Maple Syrup
Instructions
In sauce pan or rice cooker, add quinoa and 2 cups of water. Cover and cook on low simmer until all water is absorbed or evaporated and quinoa is tender. (approximately 20 min.)
Dump cooked quinoa into large bowl.
Mix in spinach, apples chick peas and parsley.
In separate, small bowl, combine ingredients for vinaigrette, mix well.
Pour vinaigrette over quinoa salad and toss gently to coat. Season with Salt and Pepper if desired.