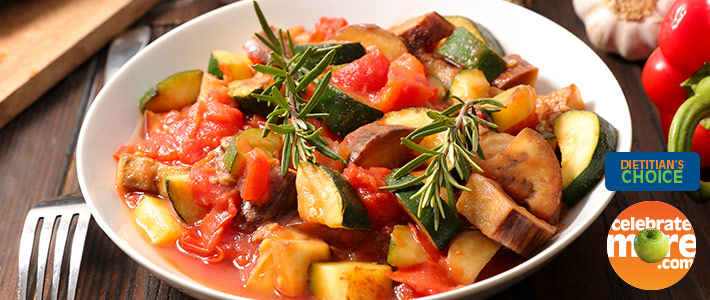 Ingredients
1 Eggplant, cubed
1 Zucchini, cubed
1 Tsp. salt, divided
1 Red Onion, finely diced
3 Garlic Cloves, finely diced
1 Red Bell Pepper, stemmed and seeded, diced
4 Roma Tomatoes, diced
2 Tbsp. Olive Oil
2 tsp. Thyme
1 tsp. Italian Seasoning
Instructions
Place cubed eggplant and cubed zucchini into two separate medium bowls. Sprinkle a 1/2 teaspoon of salt to each and mix well with your hands, ensuring veggies are coated in salt (this will help draw the moisture out of the veggies). Set aside
Add olive oil to a large pot over medium heat.
Add onions and garlic to heated oil. Cook for 5 minutes or until onions are translucent.
Once onions are garlic are cooked, add eggplant and bell pepper. Cook for 5 minutes, stirring occasionally.
Next, add zucchini and cook for 5 minutes.
Next, add thyme, Italian seasoning, and tomatoes. Cover and simmer on low heat for 25 minutes. Serve immediately.