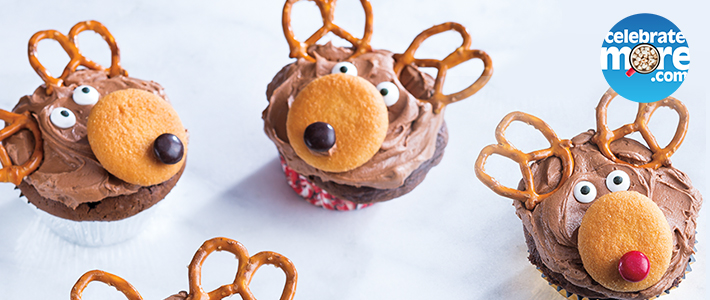 Total Time
1 hour, 3 minutes
Ingredients
Cupcakes~

24 foil baking cups
1 package (16.5 ounces) Devil's Food cake mix
1 package (3.4 ounces) chocolate instant pudding and pie filling
4 large eggs
1¼ cups whole milk
½ cup vegetable oil
1 cup unsalted butter (2 sticks), softened
2 cups powdered sugar, sifted
2 teaspoons vanilla extract
1 cup semisweet chocolate chips, melted and cooled

Reindeer~

24 vanilla wafers
48 candy eyeballs
48 mini pretzel twists
24 candy-coated chocolate pieces
Instructions
Prepare Cupcakes: Preheat oven to 350°. Line 2 standard-size muffin pans with baking cups. In large bowl, beat cake mix, pudding mix, eggs, milk and oil with mixer on medium speed 2 minutes; with rubber spatula, scrape bottom and sides of bowl. Fill baking cups 2/3 full with batter.
Bake 18 minutes or until toothpick inserted in center of cupcakes comes out with a few crumbs attached. Cool cupcakes in pan on wire rack 10 minutes. Remove cupcakes from pan; cool com-pletely on wire rack.
In large bowl, beat butter with mixer on medium speed until smooth. Add powdered sugar; beat until light and fluffy, scraping bowl occasionally. Add vanilla extract; beat until combined. Add melted chocolate; mix on low speed until well incorporated, scraping bowl occasionally. Increase speed to medium; beat 5 minutes or until frosting is creamy. Makes about 3½ cups. Frost top of each cooled cupcake with 2 tablespoons frosting.
To assemble Reindeer: Place 1 vanilla wafer slightly off-center on 1 side of each cupcake; add 2 eyes above each wafer. For antlers, press bottom sides of pretzel twists into frosting over each eye. For nose, dot wafer with frosting and press candy-coated chocolate piece into frosting.
Percent Daily Values are based on a 2,000 calorie diet. Your daily values may be higher or lower depending on your calorie needs.