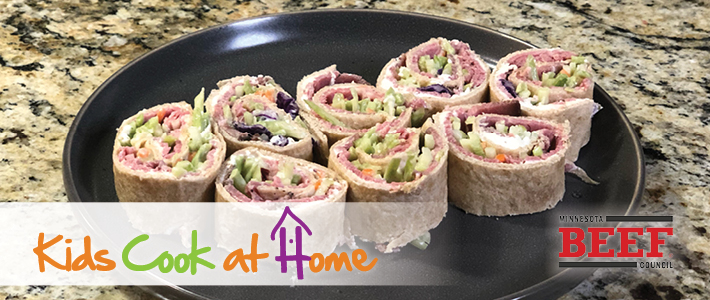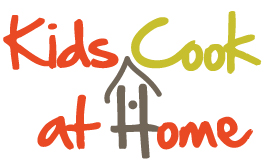 Recipe Difficulty: Easy
Oven: No
Stovetop: No
Knife: Yes (cutting wraps in half)
A simple recipe that is loaded with great nutrition and loved by kids of all ages! This recipe from the Minnesota Beef Council is perfect for kids to make for a fun lunch-time activity!
Ingredients
12 ounces deli roast beef, thinly sliced
2 cups shredded broccoli slaw
6 tablespoons ranch dressing, divided
1/2 cup fat-free cream cheese, softened
4 medium whole wheat tortillas
Instructions
Mix broccoli slaw and 1/4 cup ranch dressing in medium bowl; mix with 2 forks to coat evenly.
Combine cream cheese and remaining 2 tablespoons ranch dressing in small bowl; mix well with rubber spatula.
Place tortilla on cutting board or other flat surface. Spread about 2-1/2 tbsp cream cheese mixture on tortilla using a rubber spatula.
Top cream chees with 1/4 roast beef slices in an even layer.
Place approximately 1/3 cup of broccoli mixture on roast beef. Using rubber spatula or back of a spoon, spread broccoli mixture in an even layer.
Starting at the bottom edge, roll tortilla up tightly to enclose filling.
Repeat steps 3 through 6 to make 3 remaining wraps.
To make Pinwheels, simply cut the wraps into 2 inch pieces. Hold each pinwheel together with toothpicks.
*Adult help needed: Using a knife, cut wraps crosswise into 1-1/2-inch wide pieces or cut diagonally in half.
Notes
*Always wash your hands frequently before, during, and after cooking. 
Supplies:
- Pairing Knife
- Measuring Cups and Spoons
- Plate
- Forks, Spoon, 
- Cutting Board
Recipe provided with permission from the Minnesota Beef Council