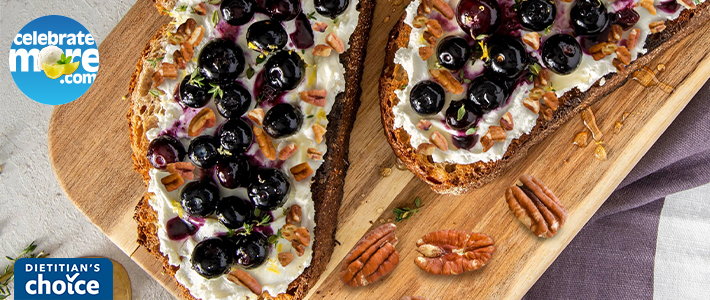 Roasted Blueberry, Pecan, and Ricotta Toast
Give your toast a boost! Make blueberries and pecans the star of your daily breakfast routine with this sweet and savory recipe.
Ingredients
1 C. Fresh Blueberries
1/4 C. Pecan Pieces, toasted
1/4 C. Honey, divided
2 Tbsp. Olive Oil
1 tsp. Fresh Thyme, finely chopped
1 tsp. Lemon Zest
1 Tbsp. Lemon Juice
4 ounces ricotta cheese
4 slices whole wheat bread, toasted
Instructions
Preheat oven to 425°F. In a 2-quart baking dish, toss together blueberries, 3 tablespoons of honey, olive oil, thyme, lemon zest and lemon juice. Bake for 12 to 15 minutes or until blueberries start to burst and juices are bubbly and slightly thickened.
Spread ricotta cheese over toast. Top with roasted blueberries and toasted pecan pieces, and drizzle with remaining honey.
Notes
Recipe created in partnership with the Produce for Better Health Foundation, American Pecan Council and US Highbush Blueberry Council.