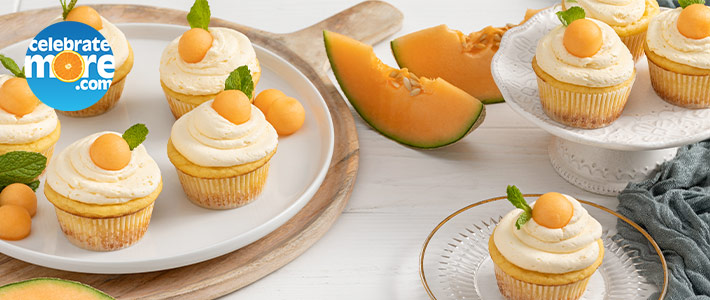 Roasted Cantaloupe Cupcakes
Total Time
1 hour, 20 minutes
Ingredients
For Cupcakes:
3 C. Cantagold Cantaloupe, cubed
2 C. Ricotta Cheese
1/2 C. Sugar
2 Tbsp. Whole Milk
2 Large Eggs
1/4 C. Unsalted Butter, melted
1 1/2 C. All-Purpose Flour
2 tsp. Baking Powder
2 tsp. Vanilla Extract
For Frosting:
2 Sticks Unsalted Butter, softened
3 1/2 C. Powdered Sugar
1 tsp. Vanilla Extract
Cantagold Cantaloupe Balls, for garnish
Fresh Mint, for garnish
Instructions
Preheat oven to 400°F. Line a muffin tin with paper liners and set aside.
Spread cantaloupe onto a parchment-lined baking sheet and roast for 20-25 minutes, or until soft and lightly golden. Let cool completely. Transfer cantaloupe to a food processor or blender and process until smooth. Lower oven temperature to 350°F.
In a large bowl, beat together ricotta, sugar, milk, eggs, melted butter and 1/2 cup roasted cantaloupe puree. Mixture will be slightly lumpy. Add flour, baking powder and vanilla and mix until batter is just combined. Scoop batter into muffin tins and bake for 20 minutes, or until a toothpick inserted into the center of a cupcake comes out clean. Let cool for 5 minutes in pan before transferring to a wire rack to cool completely.
While cupcakes cool, make frosting by beating butter with a hand- or stand-mixer until light and fluffy. Add powdered sugar, 1 tablespoon at a time, until all sugar has been incorporated and frosting is light and fluffy. Mix in vanilla and 1/3 cup roasted cantaloupe puree until combined.
Frost cupcakes with cantaloupe buttercream and garnish with cantaloupe balls and fresh mint.
Ditch the boring fruit flavored cupcakes – these Roasted Cantaloupe Cupcakes will surprise and delight all your guests! Enjoy even more melon inspired recipes with these Fresh Melon & Ricotta Salad!
Shop from the comfort of your home! You can shop online at any of our proud family of stores for these recipe ingredients as well as the rest of your grocery list! We offer curbside pick up at all locations and delivery in select locations as well. Don't forget to connect your MORE Rewards account when you shop online for extra savings, digital coupons, and many other rewards too!
Shop Ingredients