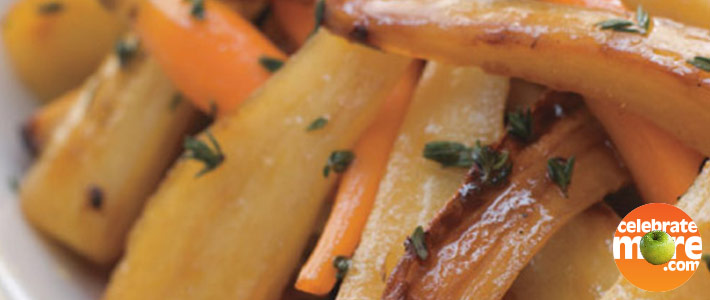 Roasted Carrots & Parsnips with Cider Vinaigrette
Prep: 35 minutes
Roast: 50 minutes • Serves: 8
2 bags (16 ounces each) carrots, peeled, cut lengthwise in half, then diagonally into 1-inch pieces
2 bags (16 ounces each) parsnips, peeled, cut lengthwise in half or quarters for larger ends, then diagonally into 1-inch pieces
8 tablespoons olive oil
1/2 teaspoon salt
1/2 teaspoon ground black pepper
3 tablespoons apple cider vinegar
2 tablespoons chopped fresh tarragon leaves
1 tablespoon chopped fresh chives
1 teaspoon balsamic vinegar
1 teaspoon honey mustard
1.Preheat oven to 350°F. On 2 rimmed baking pans, toss carrots and parsnips with 2 tablespoons oil, salt and pepper; spread in single layer. Roast 50 minutes to 1 hour or until carrots and parsnips are tender, rotating pans between upper and lower oven racks halfway through roasting.

2.Meanwhile, in large serving bowl, whisk cider vinegar, tarragon, chives, balsamic vinegar, honey mustard and remaining 6 tablespoons oil until well blended.

3.Transfer carrots and parsnips to bowl with vinaigrette; toss until well coated. Serve warm.


Approximate nutritional values per serving:
238 Calories, 14g Fat (2g Saturated), 0mg Cholesterol,
187mg Sodium, 20g Carbohydrates, 4g Fiber, 2g Protein

Helpful Tip:
> Cutting carrots and parsnips into equal size pieces and spreading in a single layer on baking pan helps ensure even cooking and browning.