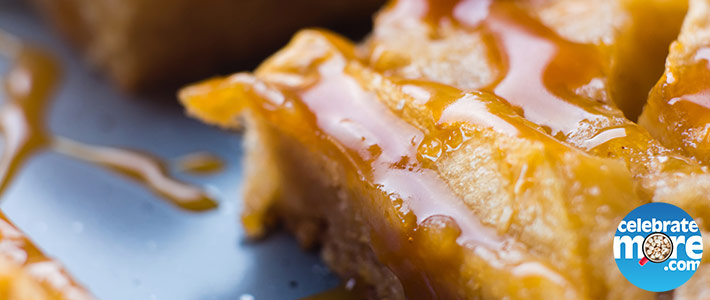 Salted Caramel Butterscotch Blondie Bars
Ingredients
2 1/8 Cups All-Purpose Flour
1/2 tsp Baking Soda
1/2 tsp Salt
3/4 Cup Butter, melted and cooled to room temp.
1 Cup Packed Brown Sugar
1/2 Cup Granulated Sugar
1 Large Egg
1 Egg Yolk
2 tsp Vanilla Extract
1 Cup Butterscotch Chips
1/2 Cup Caramel Sauce
Sea Salt
Instructions
Preheat oven to 325ºF. Spray 9x13 baking pan with nonstick spray and set aside.
In medium bowl, whisk together flour, baking soda and salt. Set aside.
In large bowl, mix together melted butter and sugars. Add egg, egg yolk and vanilla; mix well.
Slowly add dry ingredients, mixing on low speed, until just combined. Stir in butterscotch chips by hand.
Press half of dough into prepared pan, spread out evenly and smoothly. Drizzle with caramel sauce and sprinkle lightly with sea salt. Top with remaining dough and spread evenly.
Bake for 30-35 minutes or until bars are light golden brown and edges start to pull away from pan. Cool on wire rack to room temp.
Cut bars. Drizzle with caramel and an extra sprinkle of sea salt before serving.