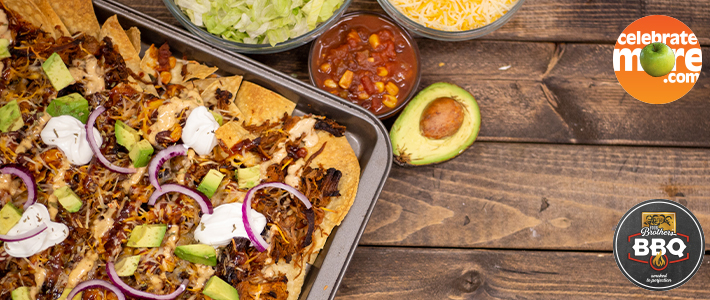 Sheet Pan Four Brothers BBQ Pulled Pork Nachos
Ingredients
1 Pkg. Four Brothers® BBQ Pulled Pork
1 Bag Four Brothers® Tortilla Chips
1/2 Bottle Four Brothers® BBQ Sauce
1/2 C. Four Brothers® Black Bean Salsa
1 1/2 C. Shredded Cheddar or Mexican Blend Cheese
Sour Cream, as garnish
Southwest Sauce, as garnish
Shredded Lettuce, for serving
Chopped Avocado, Tomato, and Red Onion, optional
Instructions
Prepare pulled pork according to directions and preheat oven to 250°F.
Lay chips out onto a half sheet pan and heat chips for five minutes until warm.
Top chips with pulled pork, BBQ sauce, black bean salsa, and shredded cheese blend. Bake in the oven at 250°F for about 8-12 minutes or until cheese is melted. Garnish with sour cream, southwest sauce, shredded lettuce, and your favorite toppings. Enjoy!